Frankie and I wanted to go out to dinner on Tuesday night somewhere close to my place. I had heard a few really good reviews about Blue Eye Dragon since buying a copy of the Cheap Eats this year, and seeing that it had won Best New Restaurant of 2007. The address said Harris St, Pyrmont, but I drive down Harris St all the time to get to work and then realised that it was the other end. When I first moved to Pyrmont, I walked down this end for a bit and then thought there was nothing there, how wrong I was.
We didn't book, cause I thought Tuesday night, it should be fine. Well the restaurant was packed, except for a couple of tables luckily.
Calamari Rolls w/ salted duck egg and seaweed - $10

I had read that these were a specialty of the restaurant, so I decided we get one of these. Apart from being very hot (burnt the roof of my mouth :() they were delicious. the calamari look like little worms and they were wrapped in a spring roll type wrapper, but not as crispy.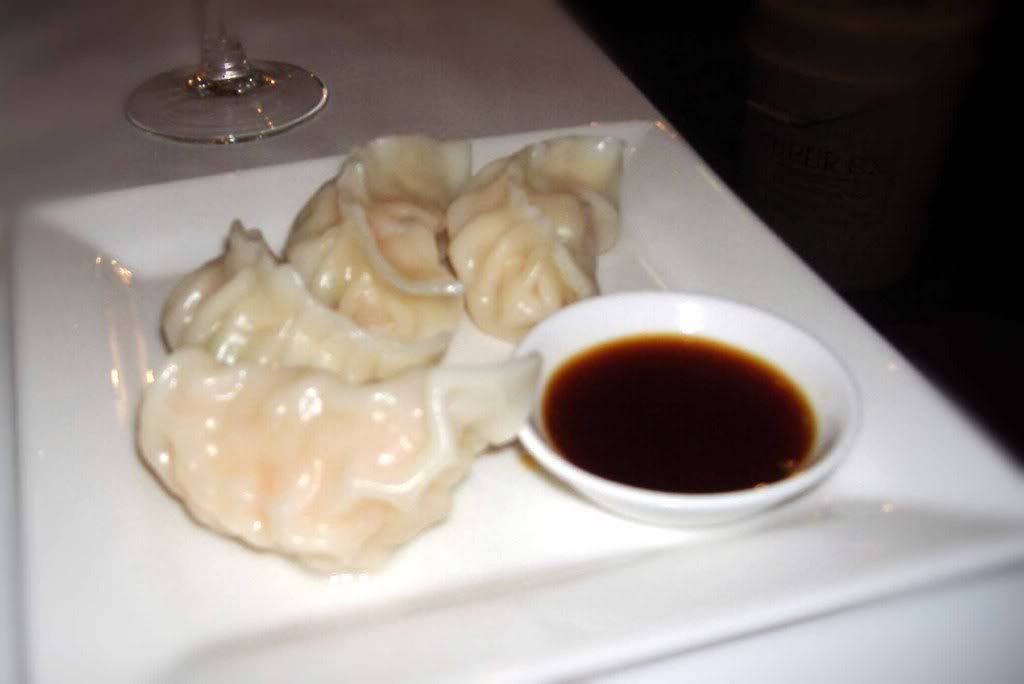 Prawn Dumplings w/ water chestnuts, shallots and chinese celery - $9

These tasted like the dumplings you get from yum cha, but they weren't all soggy and cold. I was a bit worried that they were going to be piping hot like the calamari rolls, but they were the perfect temperature.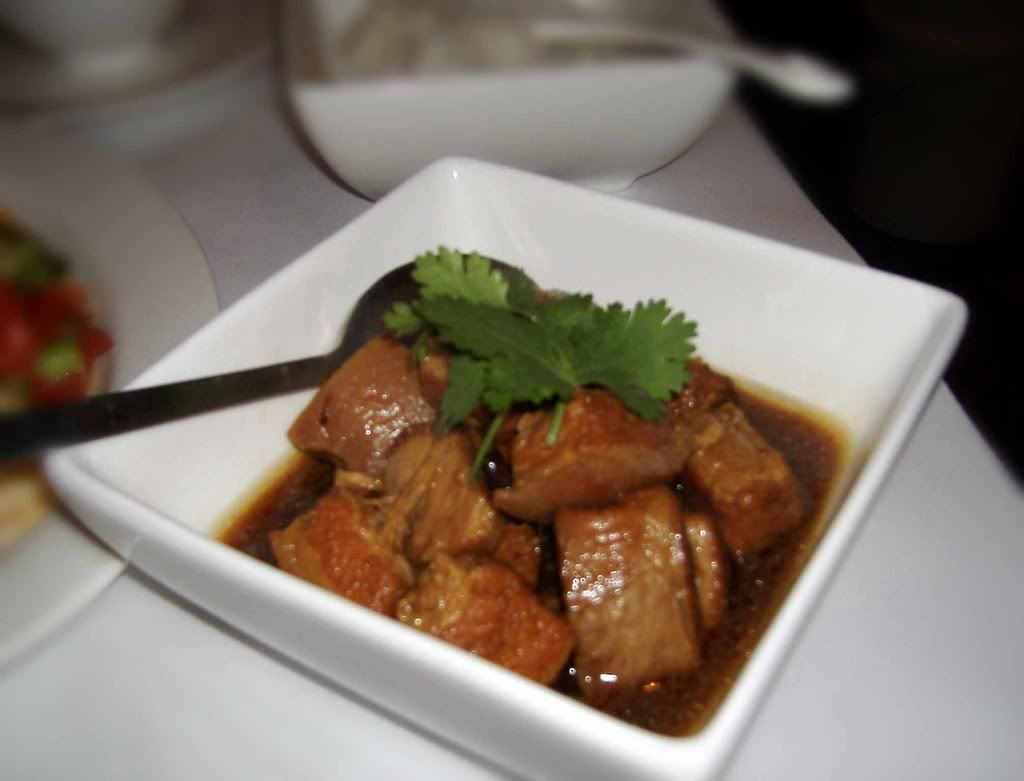 Pork Belly slow cooked in soy, aniseed, garlic and light chilli - $18

I am becoming a big fan of pork belly. Its probably one of the few ways I will eat pork. Nothing beats the pork belly that I had at Longrain though. That was to die for. This was very good though.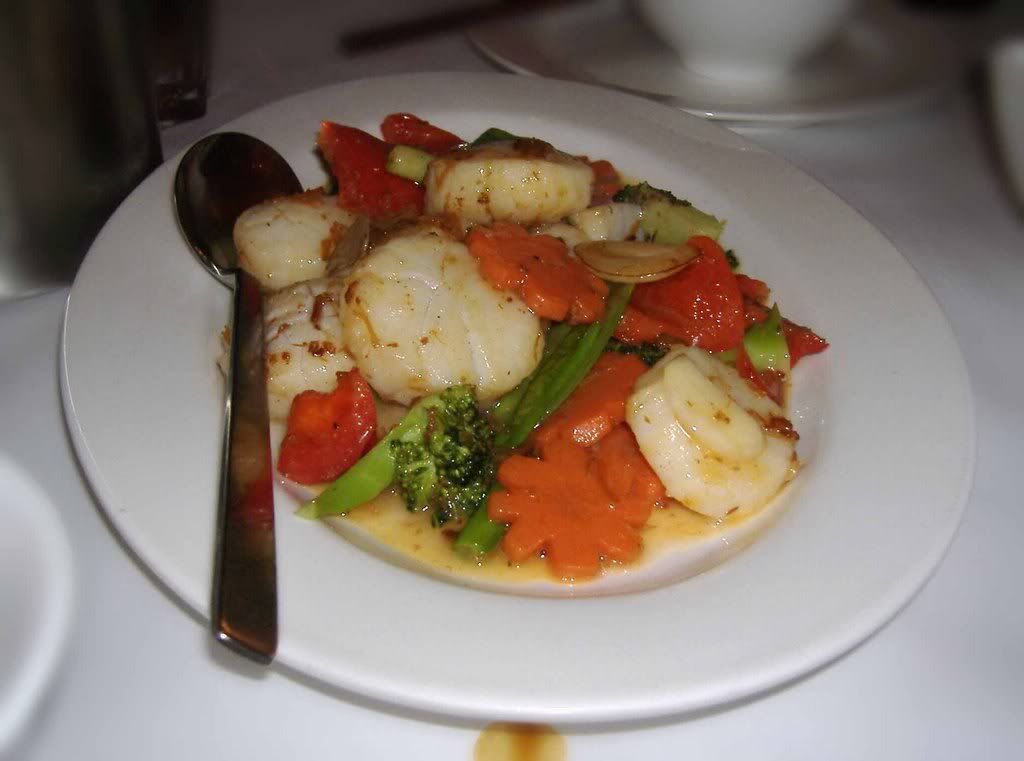 QLD Scallops in house XO Sauce and Vegetables - $32

We weren't too sure what else to get, so Frankie asked our waitress what she recommended and she said either the prawns or chicken with vegetables, so he chose scallops! The scallops and vegetables were perfectly cooked. Tasted like a really good stir fry. There were heaps of scallops too which is always good to see. We were asked if we wanted dessert, so we said we'd have a look at the menu.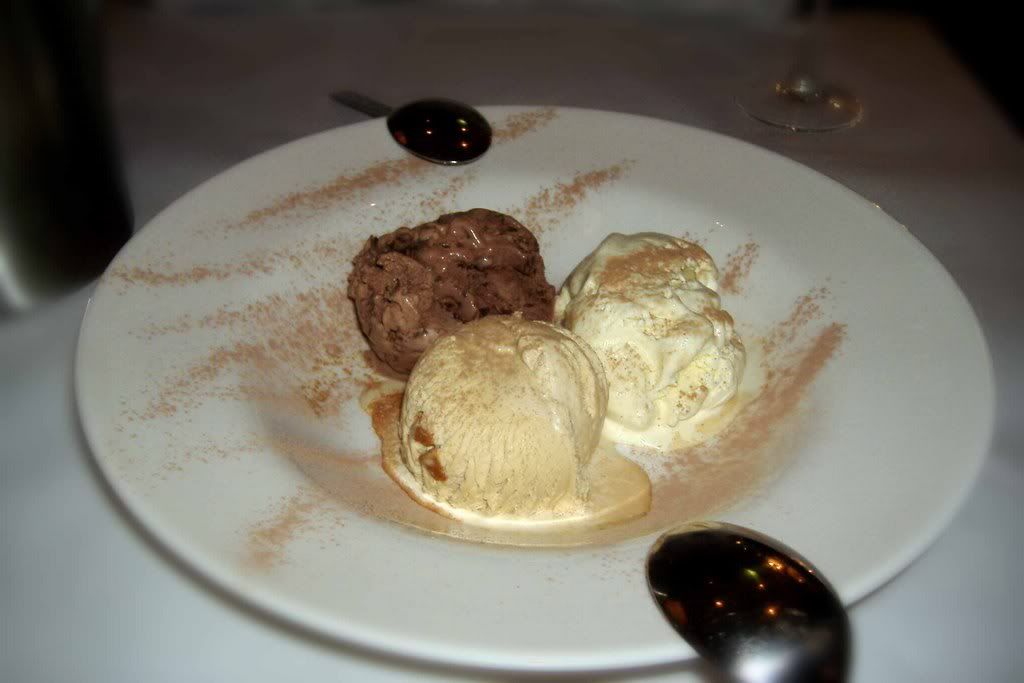 Selection of Movenpick Ice Creams - $10

Oh my god this is like the best ice cream I have ever tasted. I had never heard of movenpick before, but Frankie said it was like a brand of ice cream from Switzerland or something. There was chocolate, vanilla and caramel. Caramel was my favourite. There were bits of crunchy sugary stuff in it and it was so melt in your mouth. The chocolate one had bits of chocolate in it too that just melted. Yum. I have no idea where you can buy this in Sydney though. If anyone knows please tell!

Blue Eye Dragon
Shop 2, 42 Harris Street
Pyrmont NSW
Ph: 9518 9955

Lunch Tuesday to Friday
Dinner Tuesday to Saturday