After braving the cold weather at
Stanhope
Gardens, we hopped in our cars and headed for the city. Luckily it wasn't a
torrential
downpour like it was on Friday, cause I hate driving in the rain, and there are a lot of bad drivers that get even worse when the wet weather comes!
We dropped my car at my place and then headed for the Menzies Hotel, where we thought we were really lucky to find a parking spot right out front and then realised it became a taxi zone in 5 minutes... We met up with a couple of Mum and Dad's friends and had a drink and then was shown to our table. Inside the restaurant was beautiful, really old style. Reminded me of some grand hotels that you would find in Singapore, not that i have been there.. We looked at the menus and decided whether we wanted an entree and main, or a main and dessert, four of us decided on the first option and Peter was going to have a dessert.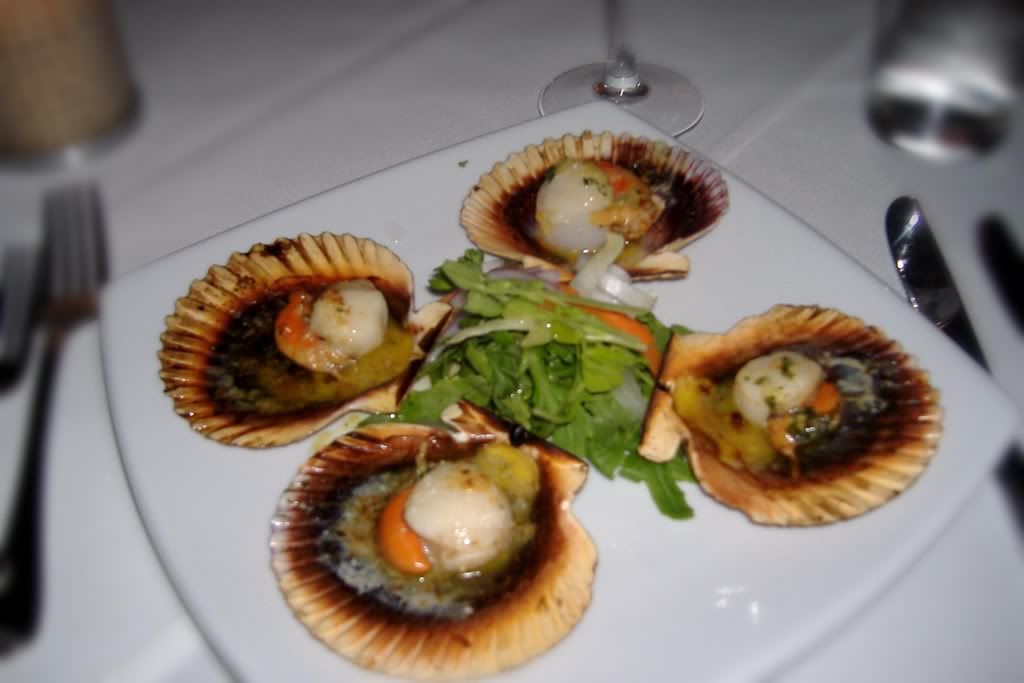 Grilled Garlic Scallops - $21.50
Heather, Mum and I ordered these scallops and although they were very tasty I thought it was a bit of a rip off paying that much for 4 scallops and not even big juicy ones. When we buy scallops from the fish shop they are much bigger than this and you would probably get half a kilo! Wasn't impressed...
Chicken Liver, Baby Onion and Bacon Tart - $18.50
Dad ordered this and he said it was very good. Looked more substantial than my scallops too! For mains I always like to order something that I wouldn't cook at home, and when there is duck on the menu it's pretty much a clear winner for me.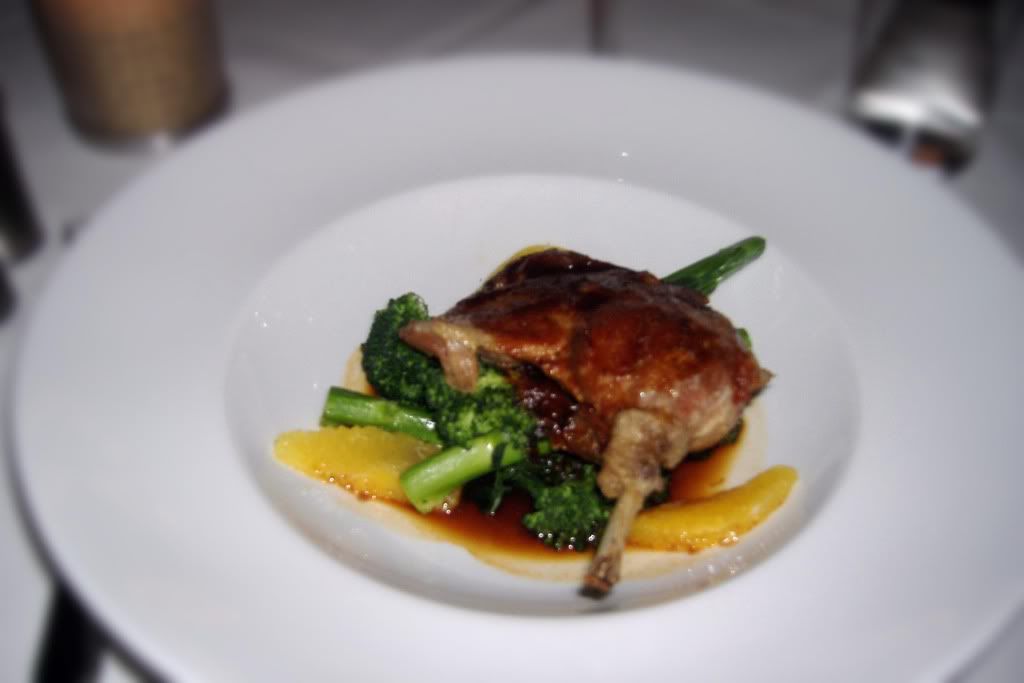 Duck

Confit

with Star Anise and Orange

Jus

- $32.50
Heather, Peter and I all ordered this and disappointment came over my face once again. I don't know if the picture shows it, but that was one small little duck. The flavours were good, but i just didn't feel satisfied after I ate it. Heather and Peter also thought the duck was quite small.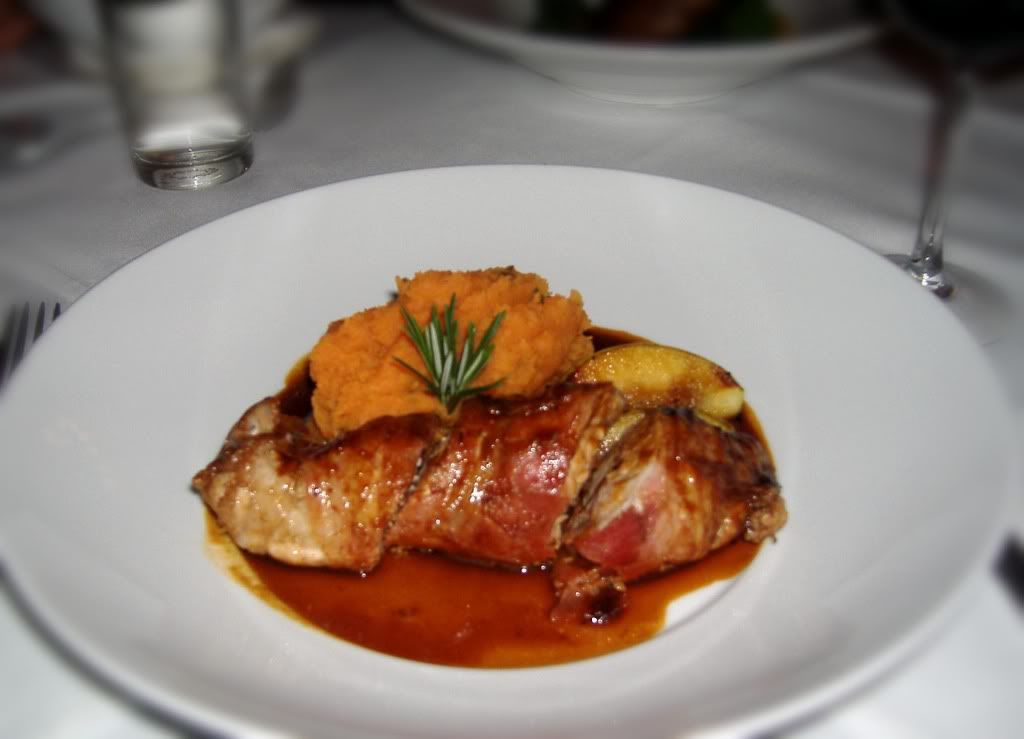 Pork Tenderloin Wrapped in Prosciutto with Sweet Potato Mash and Apple Cider

Jus

- $31.50
Mum ordered this and I was quite jealous when it came out. I try to steer clear from pork, cause I find it dry, but this was nice and moist and had lots of sauce to help it as well.
Prawn and Crab Risotto with Fennel and Sweet Corn - $34.50
Dad likes his risotto, so went for this and it looked awesome. Another good sized helping...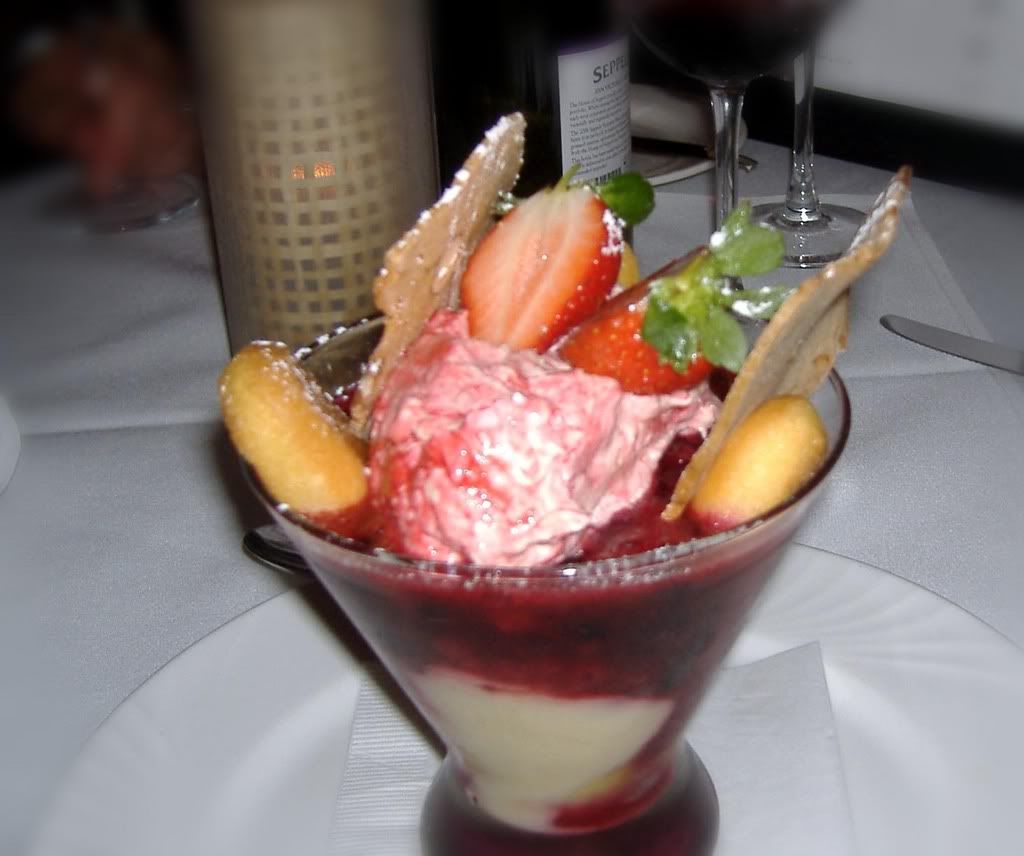 Meringue with Autumn Berries - $14.50
Peter ordered this for his dessert, and when it came out i was regretting my decision of not going for the main and the dessert..
I would recommend coming here though, cause the restaurant has a lovely atmosphere, especially on a cold windy night, but if you want value for your money I wouldn't order the scallops! They have a piano bar which is next to the restaurant which we went to after. The piano guy is cool and takes requests of what you want to listen to. For some reason though the piano man downstairs and the piano guy upstairs both did a rendition of "I still call Australia Home". Strange...must be a popular tune.
Parkside

Restaurant, Menzies Hotel
14
Carrington
Street
Sydney
NSW
Open for dinner 6pm - 10pm
Piano bar is open (with live pianist) Thursday to Saturday 8pm till late