Last night Frankie and I went to dinner at The Malaya at King St Wharf, which is a Nonya style restaurant which is a distinct style of malaysian food. I had been here once before a few years ago for a friend's birthday and we ordered the banquet, so this time it was good to choose what we actually wanted. I couldn't believe how packed this place was on a Thursday night, and i swear it was a lot smaller last time. We were shown to our table which was in a nice position outside on the balcony. We ordered cocktails and were asked if we were ready to order, but we hadn't even looked at the menu! Then we didn't see the waiter dude for ages, but once we finally ordered the food came out super fast.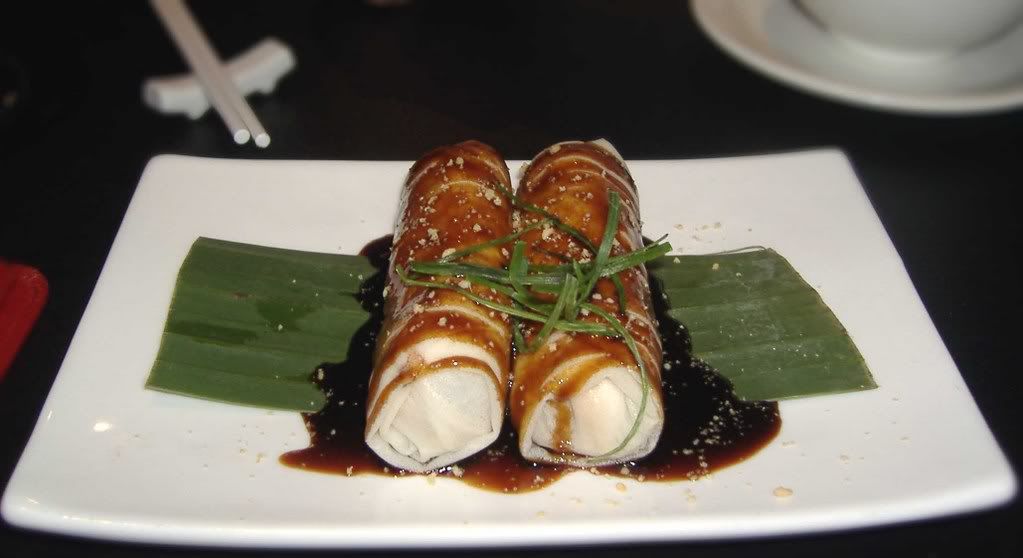 Popiah - $11


I hadn't had popiah before, but have wanted to try it for ages. This is described as thin pastry skins filled with sliced chicken, king prawns, shallots, vermicelli and bean sprouts served with a sweet chilli sauce and fresh ground peanuts and cashews. This was really good. It's was exactly like a fresh Vietnamese spring roll, but crispy and hot.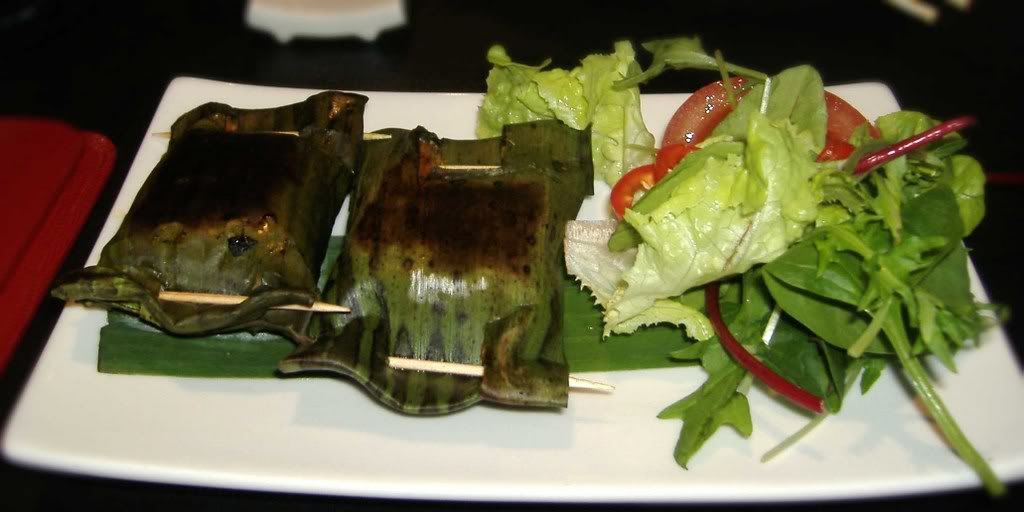 Otak Otak - $13

Frankie chose this one and it was very tasty. White fish fillets minced with spices and chilli, wrapped in banana leaf and barbecued.
Opened Otak Otak (I put the chilli on top)
It was really moist and really flavourful. I thought it was going to be dry and bland and was thinking that it should have come with some sweet chilli sauce, but it didn't need anything. Frankie and I also ate one of those slices of fresh chilli each trying to be tough and all, but man it was hot. My mouth was burning for ages....yeah won't be doing that again.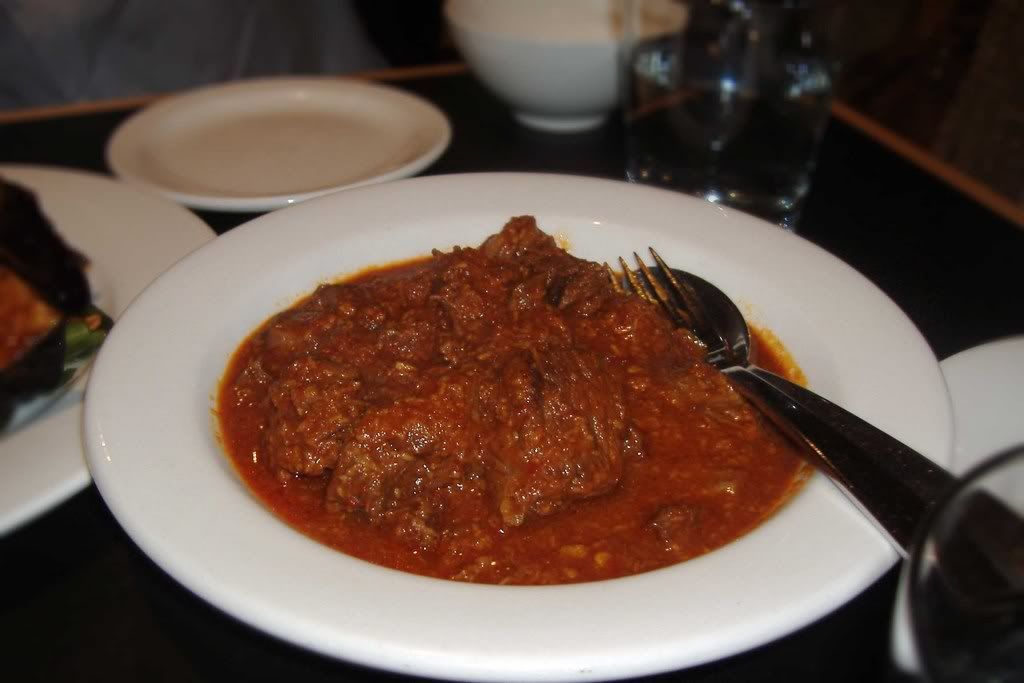 The first of our mains was the beef rendang. You can either have it as tomato based or coconut based, we chose tomato. I love curries and this didn't disappoint. I didn't think it was spectacular or anything, but it was really good. Then we were going to get the Hai Nan Chicken, but they had run out apparently, so we went for the Szechaun eggplant instead and oh my god i am glad that we did.
I love eggplant and have never had it this way before. It says in the descriptions that it was stir fried dry style, but it tasted like it had been roasted and then deep fried in a sweet oil. It was all crunchy and caramelised on the outside and really soft on the inside. Yeah i would highly recommend this. Vegetarian food has never been so good! The waiter also warned us that the red things weren't sun dried tomatoes but really hot chillies. Frankie tried a little one of these and said it was much hotter than the fresh chilli, so i didn't even go there. Really good food here and really nice location. I will definitely be going back soon.
The Malaya
39 Lime Street, King St Wharf
Sydney
Ph: 9279 1170
Lunch Monday - Saturday 12pm to 3pm
Dinner Sunday & Monday 6pm to 9pm
Tuesday - Saturday 6pm to 10pm