I have four friends from school that whenever it's someones birthday we all take that person out to a nice restaurant for dinner and pay for them, they also don't know where we are taking them. We get a bit behind with organising dates though and it was Kylie & Naomi's (they are non identical twins) birthday in February, which we celebrated last Saturday....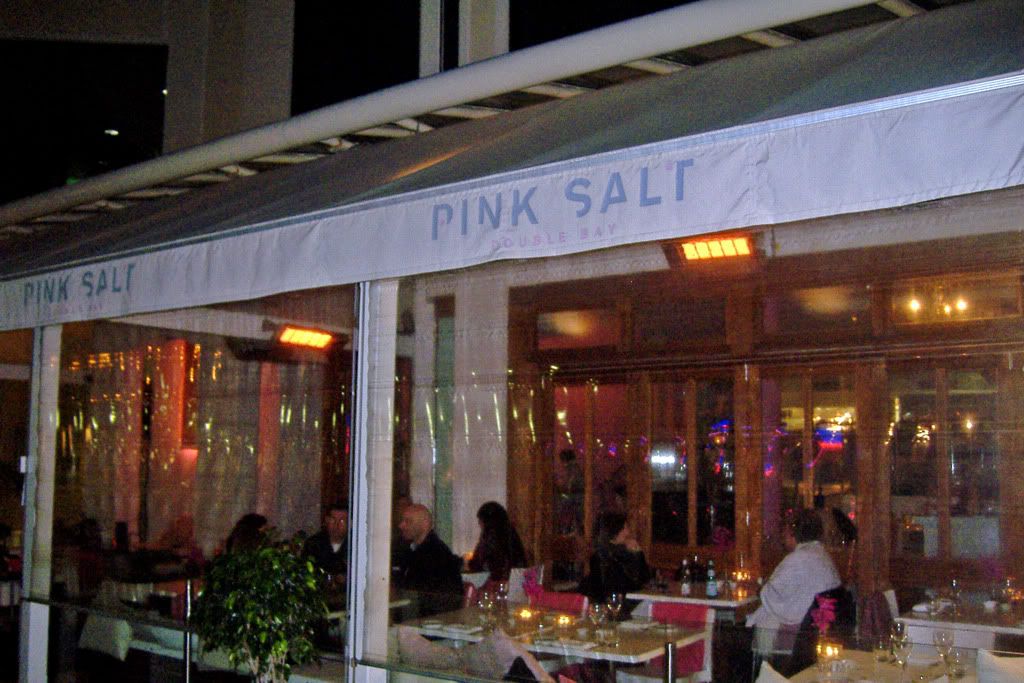 Kristy chose this place and I was excited, cause for anyone that lives in Australia might know about My Restaurant Rules, which is a competition between 5 cities in Australia as to who can be the best restaurant and then they get to keep it. Unfortunately Evan and Bella from Sydney came in second, and then found out while talking to Evan on Saturday, that the rent from their original restaurant in Manly was being doubled, so they moved to Double Bay. Anyway onto the food...we decided that we were just going to get mains and then decide if we wanted desserts. Kristy and I both went for the seafood fettuccine


Squid ink fettuccine de la mer - $29

w/ blue swimmer crab, NZ mussels, clams and creamy chardonnay sauce
I don't know what de la mer meant but now after using old trustful google it means "of the sea". This was delicious! One of the best pastas i have had. You know how some pastas you get and they don't have much flavour, or body, this had both. The only problem i had with it that the inside of the restaurant was very dimly lit, that it was quite hard to see what you were eating. So I wasn't sure if there were any clams left there stuck to their shells.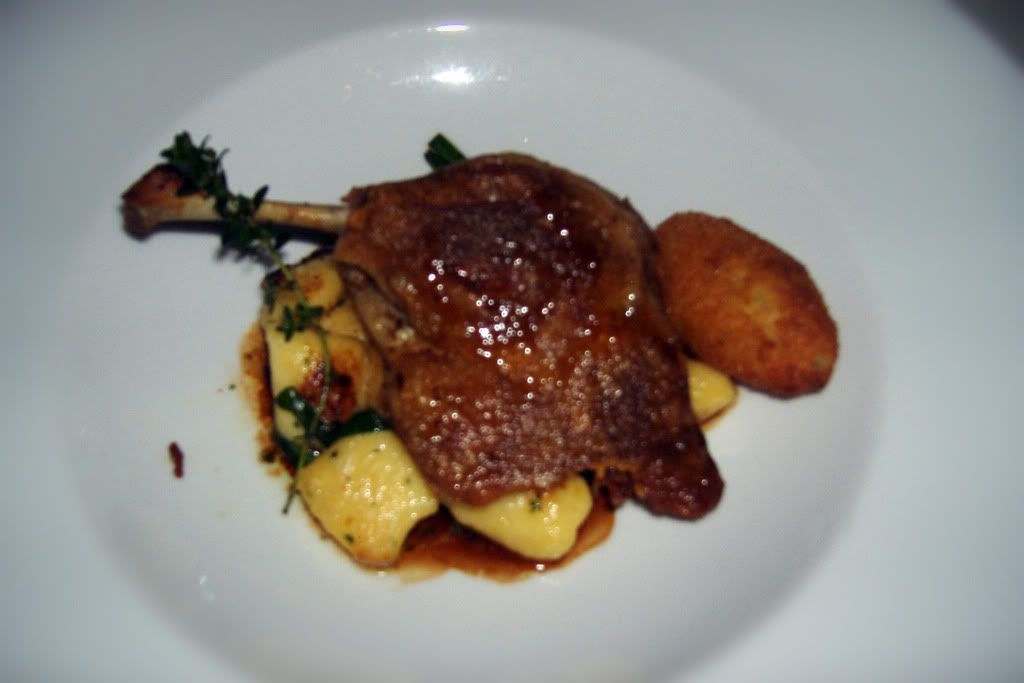 Plum glazed confit leg duck - $30

w/ hand made pan fried gnocchi, crumbed herbal butter & lemon thyme jus
The birthday girls both ordered this and thought it was very good. Naomi didn't realise (even though the waiter told her) that the crumbed piece on top was butter and to be careful when they cut through it. She was about halfway through her meal when Kylie reminded her about it..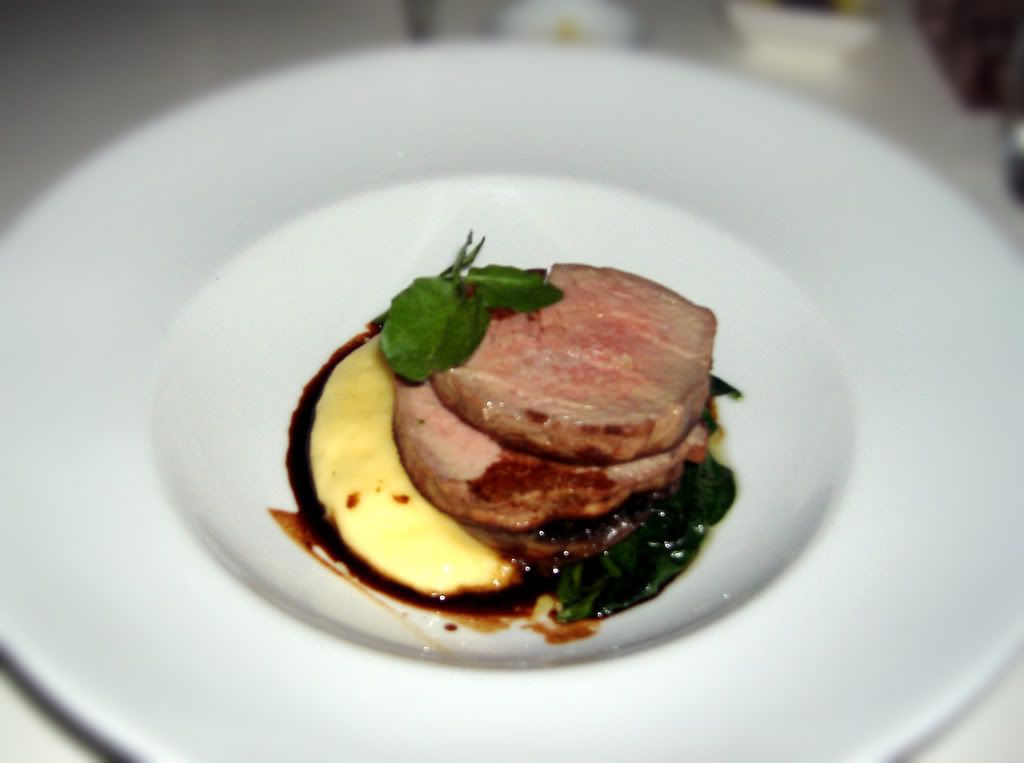 Grain fed beef fillet - $34

w/ creamy mashed potato, baby spinach, field mushroom and spiced red wine reduction
Steph (who is Kylie and Naomi's younger sister) ordered the beef. Now one thing we have to make sure that when we choose a restaurant it has to have a beef option, cause pretty much that will be ordered by Steph every time. God love her, but she just isn't very adventurous in the food department. So she thought this was great of course! Also before the mains came out we all got a complimentary starter in a soup spoon consisting of a salmon tartare mixture, which was lovely. We were shown the dessert menu and decided to share a couple between the 5 of us. We all wanted to get the lindt chocolate a la mode, but unfortunately they had run out :(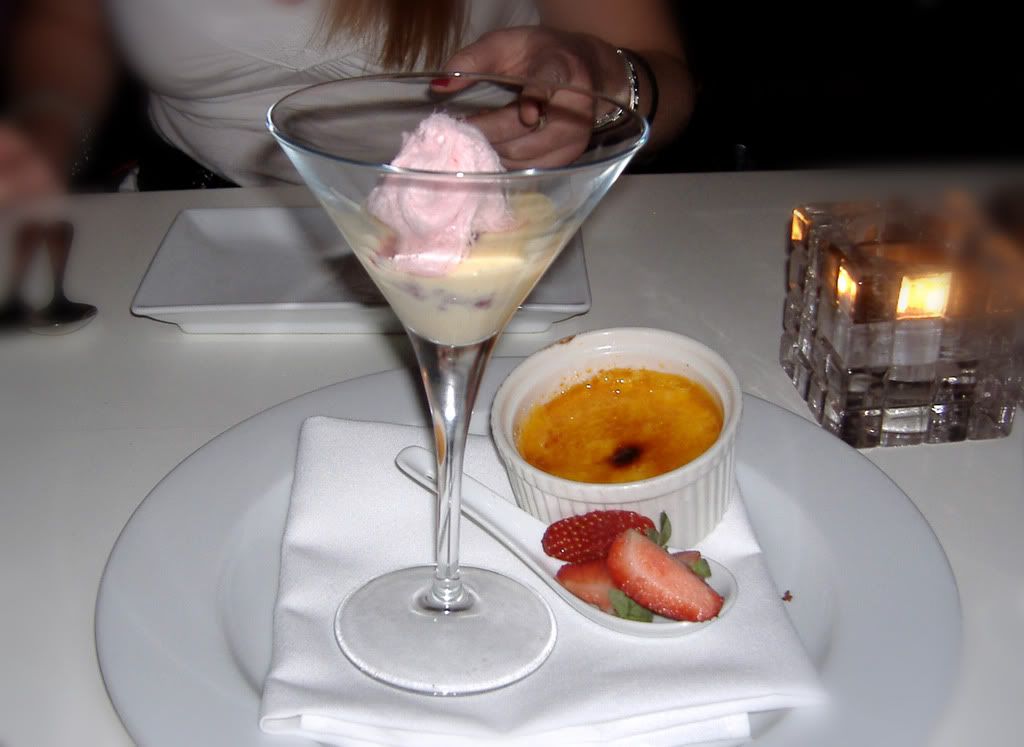 Ricotta creme brulee, rhubarb and vanilla martini, persian fairy floss - $14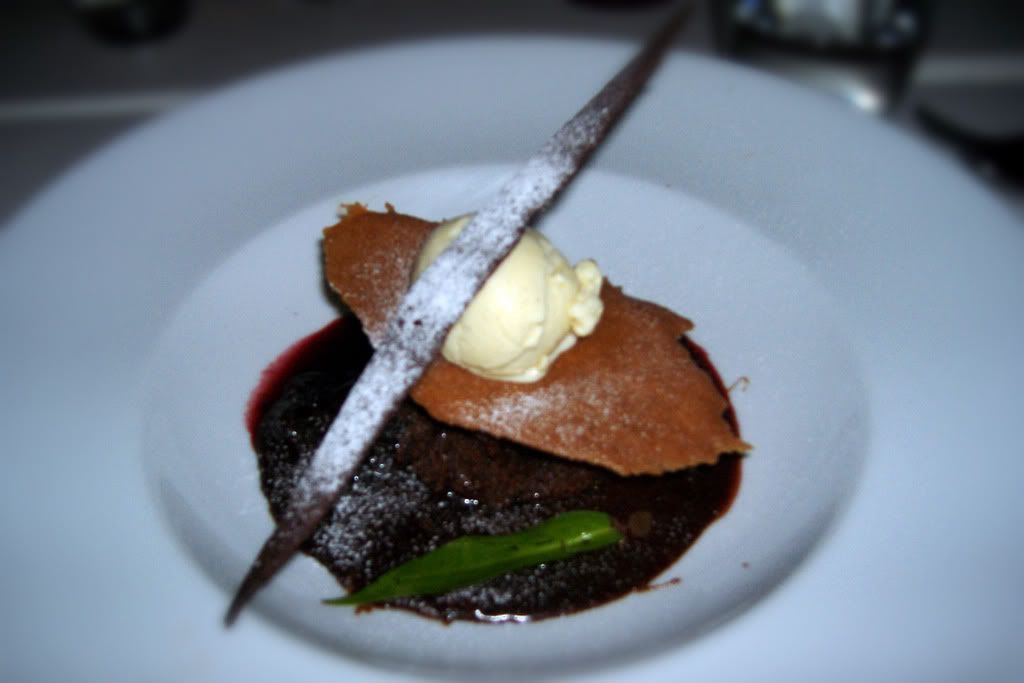 Alternative chocolate dessert - ?
I chose the brulee, but i didn't realise until just now that it was a ricotta one. No wonder I thought it tasted weird, not bad, but different. The persian fairy floss with the rhubarb and vanilla didn't really taste of too much but sugar, but it was still good. The chocolate dessert was devoured by the other 4. I managed to get a taste of it though, and found out it was a chocolate and cherry kind of dessert, which I wasn't a big fan of so wasn't too disappointed that there was hardly any left.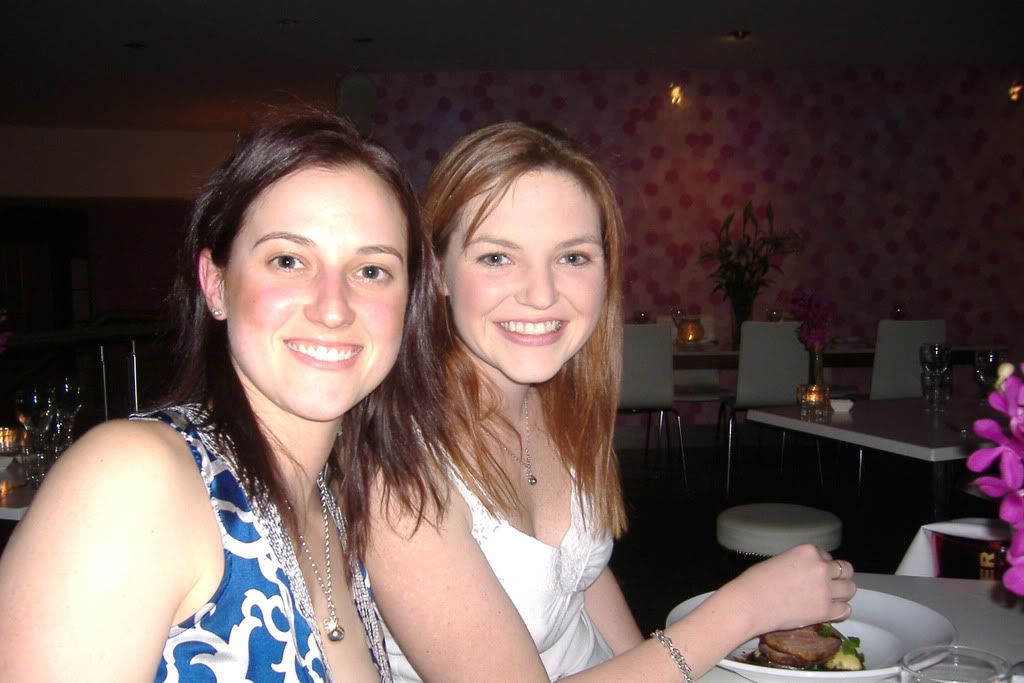 Kylie and Stephanie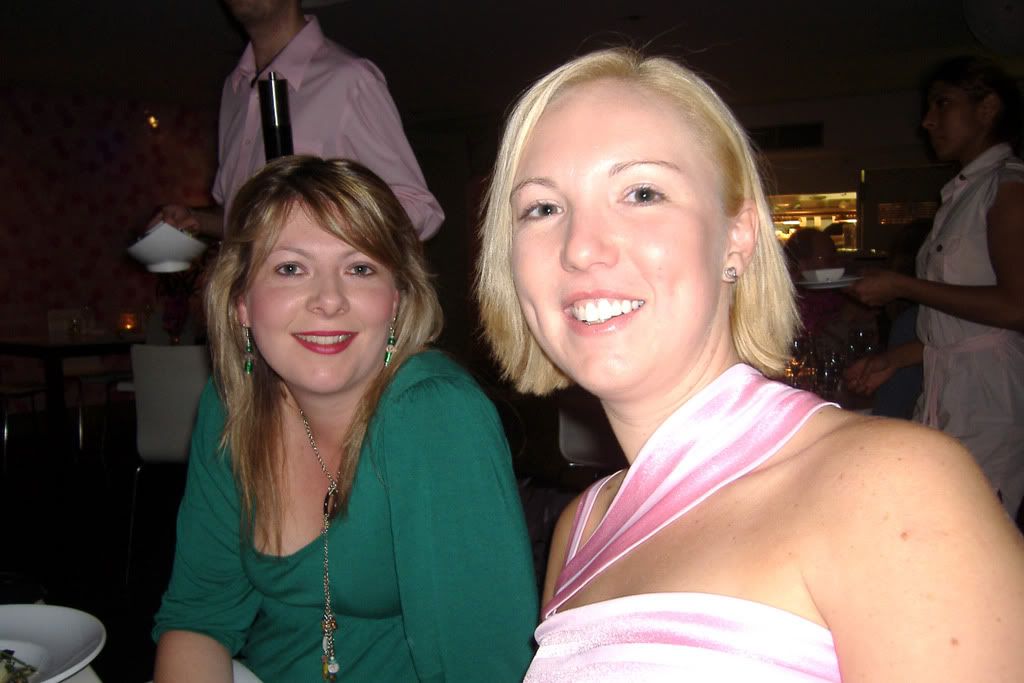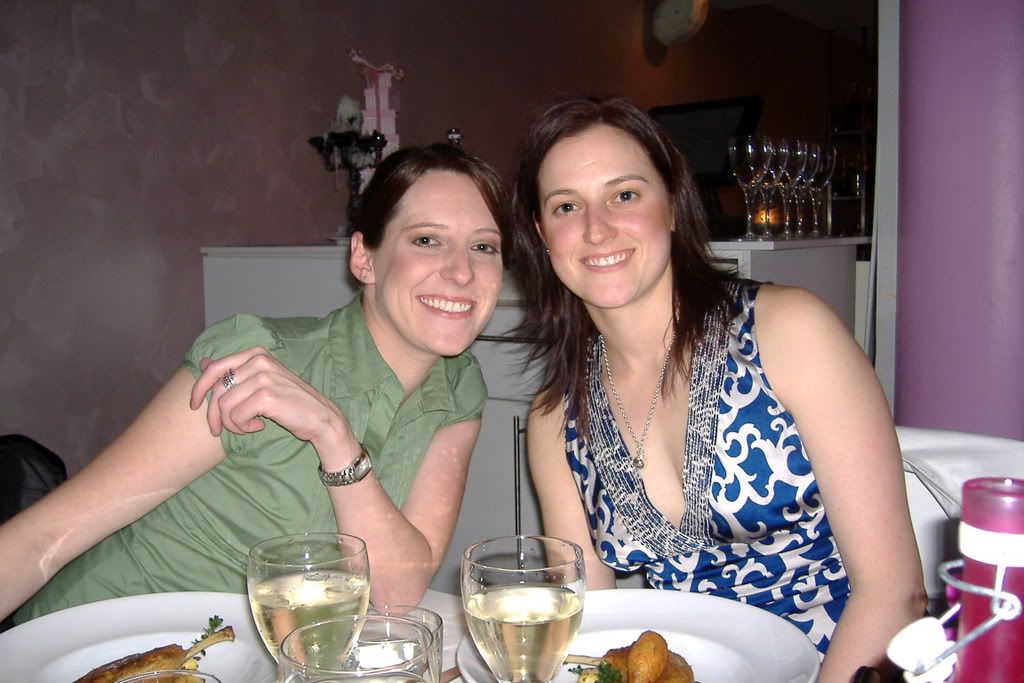 Naomi & Kylie
Overall it was an excellent night, mostly because of the company, but the food was great and the interior was beautiful (if a bit on the dim side). As we entered the restaurant, both Evan and Bella were there to greet us which was great. Bella left half way through our meal, but Evan was there until the end chatting to everyone which was cool. So my birthday was in March, which we are going to celebrate in August. Stay tuned to see where we end up....
Pink Salt
53 Cross Street
Double Bay NSW
Ph: 9328 1664
Open Tue - Sun
Lunch 12pm to 3pm
Dinner 6pm to 10pm