One thing you must do when visiting
Chiang
Mai is go to a cooking school. There are heaps around to choose from and they are well worth the money that you pay. Last time I was in
Chiang
Mai I went to the
Chiang
Mai Cookery School, which I thought was very good, but this time wanted to try a different one so I got on the net and found
this one
which was highly recommended. We only wanted to do a half day course which included 3 dishes (including making curry paste from scratch) and cost about $20.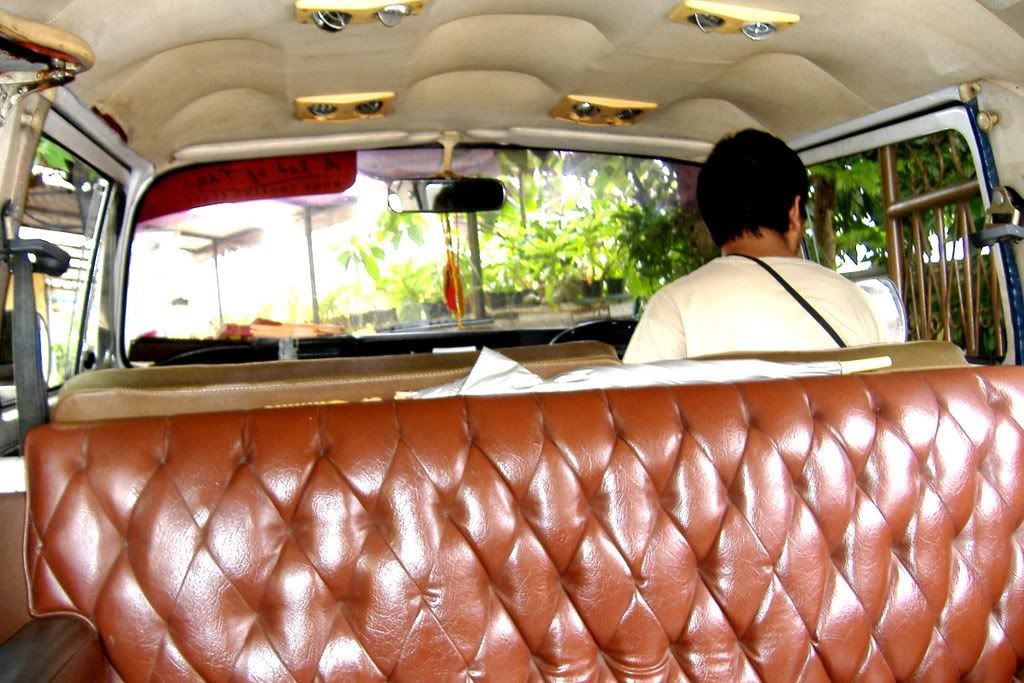 Van we were picked up in

The van we were picked up in was pretty cool. The seats had been taken out and 2 couches filled the spots. The thing that is great about all these tours is they will come and pick you up from the lobby of your hotel for free.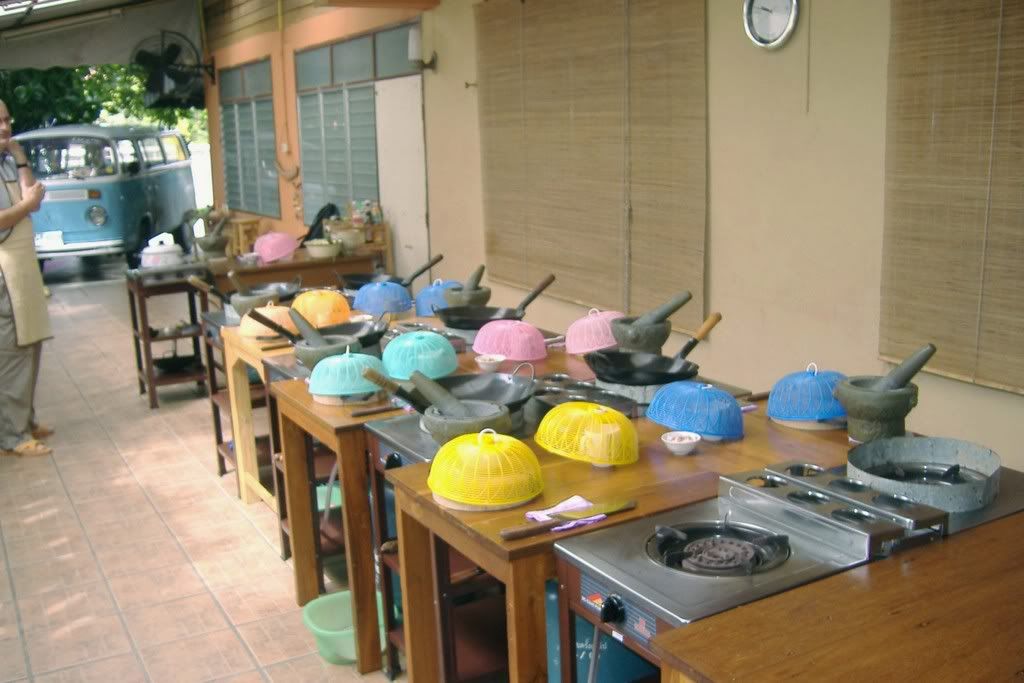 Cooking Stations

Everything was really well presented and all the ingredients needed assorted on a plate ready to be chopped. Once you had finished one of the courses you would eat it and the staff would come around and clean up all the workstations ready for the next course. If only that would happen in everyday life....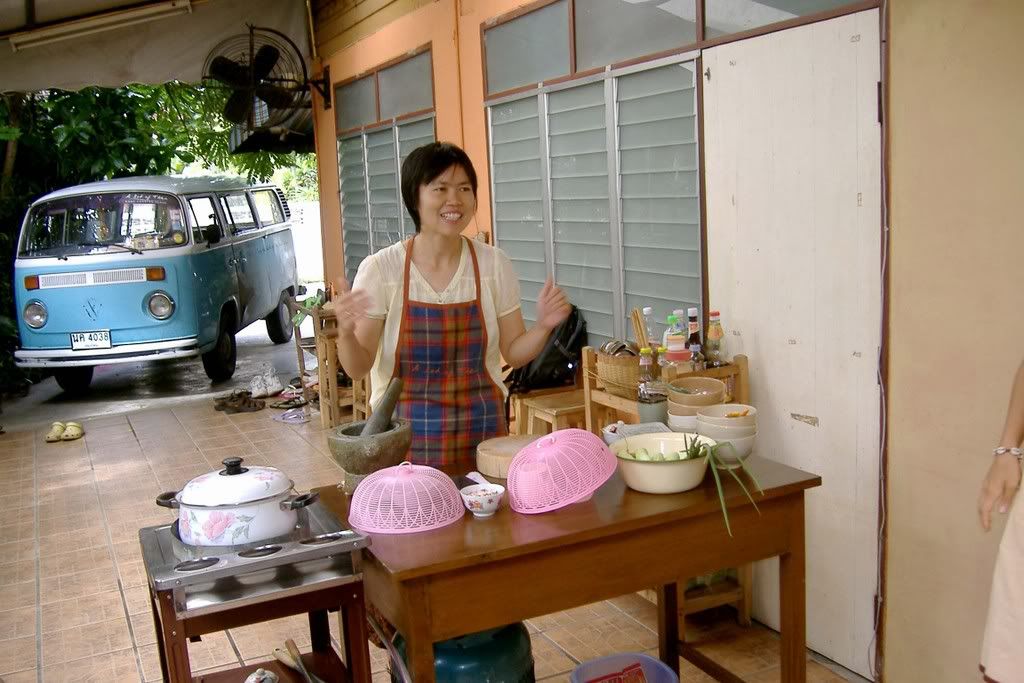 Yui - Our Teacher

Yui, meaning big cheeks in Thai, was lovely. The cooking course was done from her house which made it very personal.
For our first course we made a stuffed cucumber soup.
Yui
said that you wouldn't find this in any restaurant, only if you went to
someone's
house, which was good to have something different from the normal Pad Thai, or Tom Yum. We started by mixing the pork mince with some garlic, egg, fish sauce, and pepper to taste. After that we cut 2 cucumbers into three similar pieces and carved out the middle.
Naomi stuffing cucumbers

Then we put the mince mixture into the hollowed out cucumbers. Yui had a pot of broth cooking on the stove with spring onions and stock and when we had finished with our cucumbers we put them into the soup. While they were cooking she showed us how to make carrot carvings. Mine were pretty uneven and not worth picturing, but i always say as long as it tastes good it doesn't matter!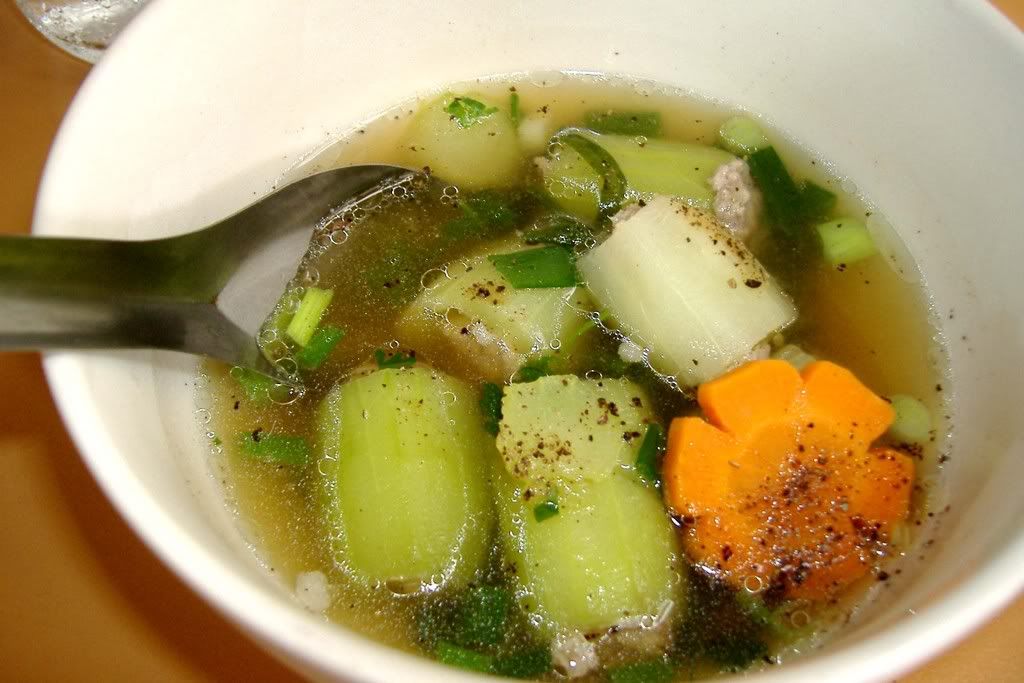 The finished product (note that was not my carrot carving...)!
Next course was a vegetable fried rice (which included chicken...).
Ingredients

Clockwise from top, minced chicken, lemongrass, thai basil, pumpkin, onion, ginger, kaffir lime leaf, cooked brown rice.
These were all chopped finely and then fried and an egg was added at the end, with some fish sauce and sugar.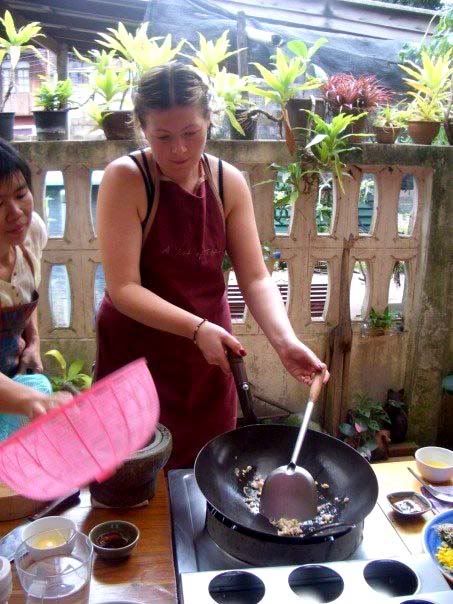 Frying the rice

Yum!

Finally in the half day course was our choice of curry. Yui asked us at the beginning of the class which curry we would like to make, and I suggested Panang, as not many people there had tried it and i thought it was one of the best curries. So we started off by making the curry paste.

These mortar and pestles were the best ever.
Yui
said they cost about 300 Baht ($10!) I was amazed. They weighed a ton though, so i didn't even consider trying to take one on the plane. There were a ton of ingredients that went into the paste, which I think if I was making it all the time would be cost effective, but seriously after all that I think i will just use the
premade
stuff (i bought heaps of pastes back with me, they were so cheap!)
I am not bragging but this was the best curry I had in Thailand. I remember the other one that I made a couple of years ago at the
Chiang
Mai cookery school being one of the best curries i have had also. I tried a lot of curries while I was in the south, but found them all very watery and some very bland. Instead of using oil to cook with you start with coconut cream (not milk) and fry it until it separates and then add the paste.
Yui
asked if anyone would like to put some of her super hot paste into it and I was like yeah! Although I didn't find it that hot.