Chiang Mai would have to be my favourite place in Thailand. In my opinion it has some of the best food, the best atmosphere and everyone seems to be really genuine. Last time I went to Chiang Mai I was on a tour and we travelled by the overnight train which took 13 hours! This time we decided to fly! We travelled by Air Asia, which seems to be the Asian version of Virgin. There were no seats allocated either and let me tell you I have never seen so many people, since primary school, rushing to be in the front of the line. The flights were really cheap too, I don't know why anyone would catch the train.
So we went out to one of the many restaurants in the night bazaar area. I had been researching before I left on what were the specialties of the north, and one of them was Kao (Khao) Soi, which is a noodle type soup with crispy noodles on top, and as with most Thai dishes you can get it with your choice of meat/fish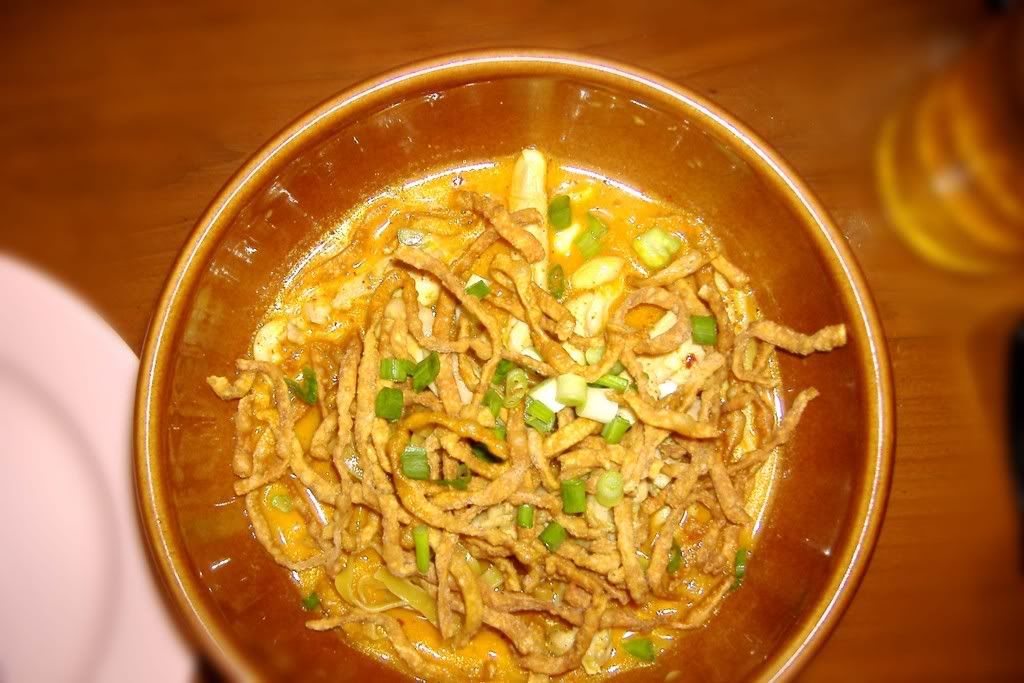 I have now found my new favourite dish (It cost about $2 as well). The flavours were so intense and the contrast of the soft noodles and the crispy noodles was perfect. The only problem with it was that I wanted more and more, but it was nowhere else to be found apart from Chiang Mai (from what I could see anyway). So I have already found a recipe for it and will be trying it out soon.
Another favourite of mine is morning glory. I always seem to get Thai dishes that don't have too many vegetables in them, so to get my vegetable intake I ordered this as well. Stir fried in oyster sauce and big chunks of garlic! So good.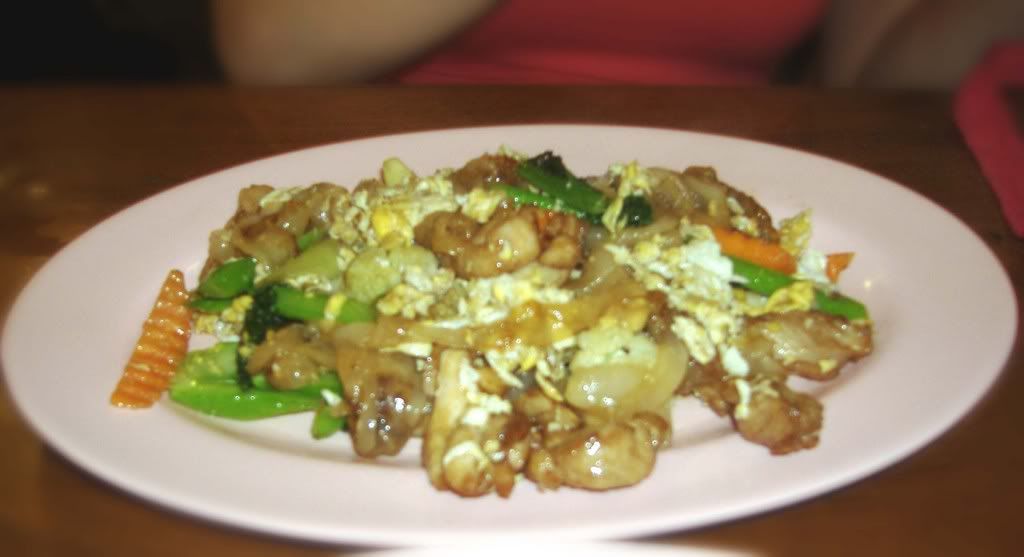 Naomi got Pad Siew, which she had never had before and didn't really like the texture of the noodles. I love pad siew. I prefer it to Pad Thai, cause of the big fat noodles.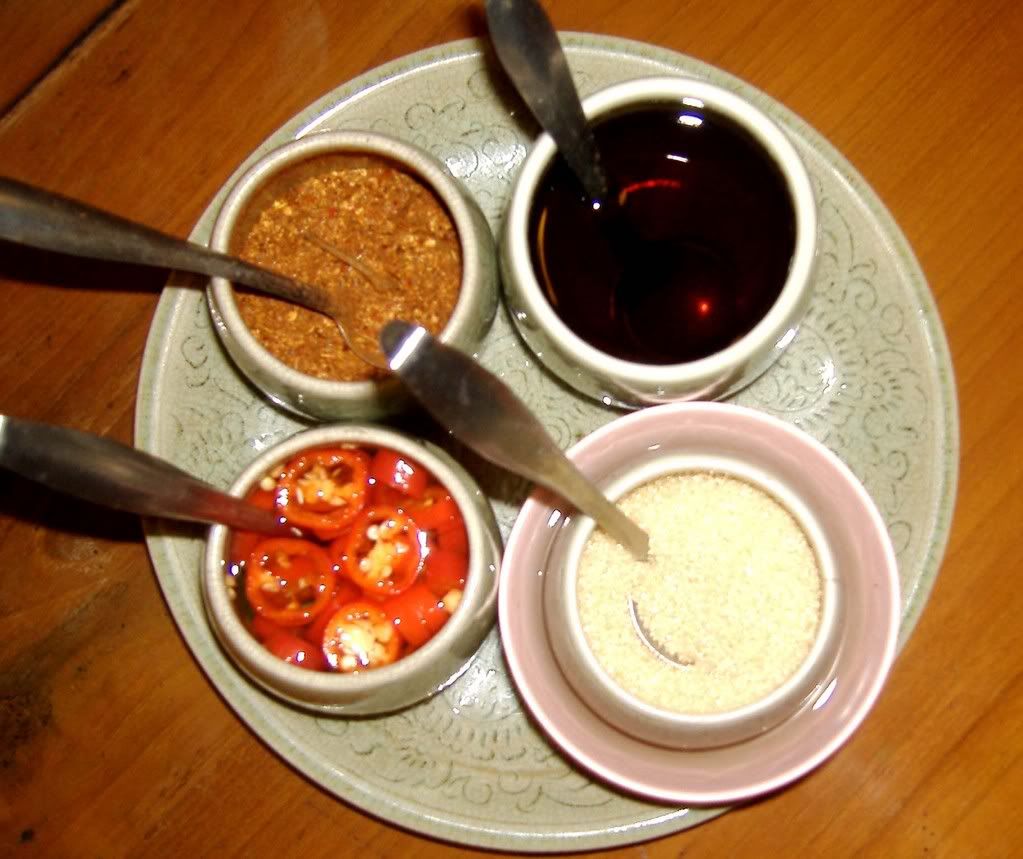 Condiments

I love all the condiments you get with thai food, so you can flavour it to your liking. From the top you have chilli flakes, fish sauce, sugar, and chilli vinegar. I like spicy food so I always add extra chilli flakes and chilli vinegar. Sometimes you get a different type of chilli vinegar which is much hotter and has small green chillies in it.

I had never tried this before, but it was so good. It was the perfect sweetness so it wasn't like normal desserts that make you feel sick afterwards.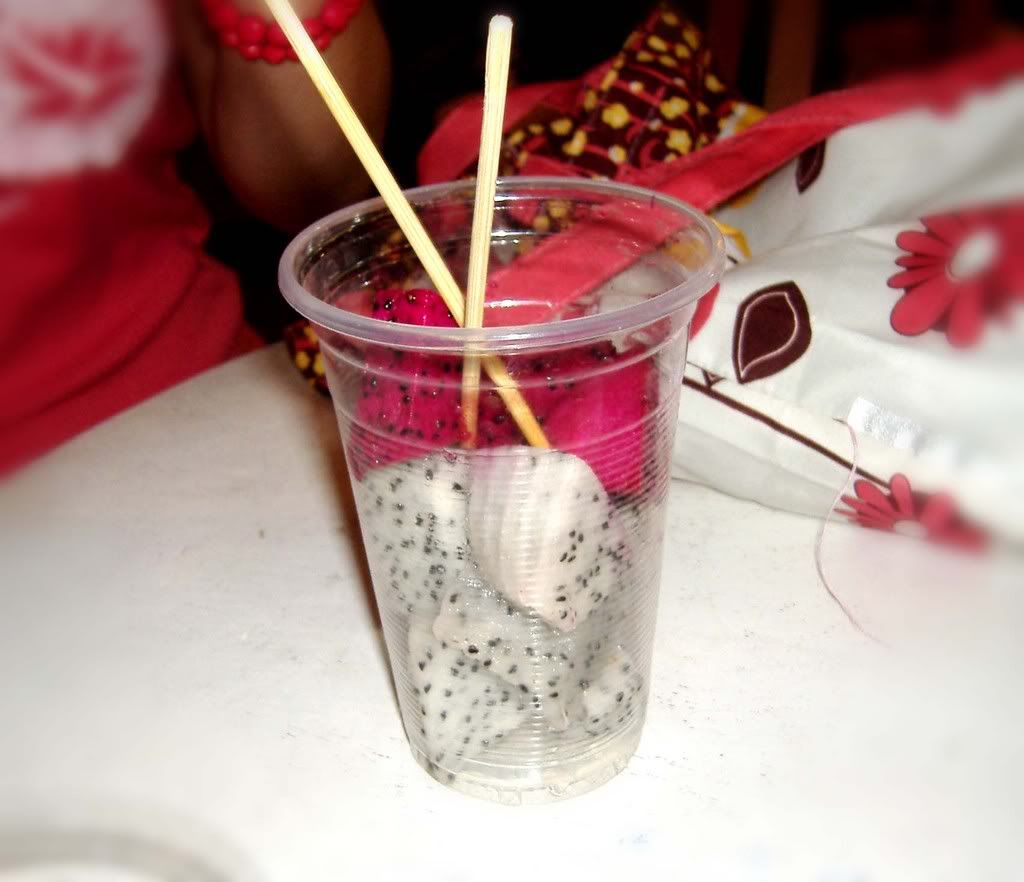 Dragonfruit

Naomi had seen this and really wanted to try it. I had never tried it either, and I don't think I would have it again. It didn't have much flavour and there are too many other fruits that taste so much better.
Another night we went to a seafood restaurant and ordered up a feast between the two of us. It all up cost us about 10 bucks each including cocktails.
Prawn Tempura

This was really good. It's hard to find good tempura in Thailand, cause most of the times the tempura will be thick greasy batter.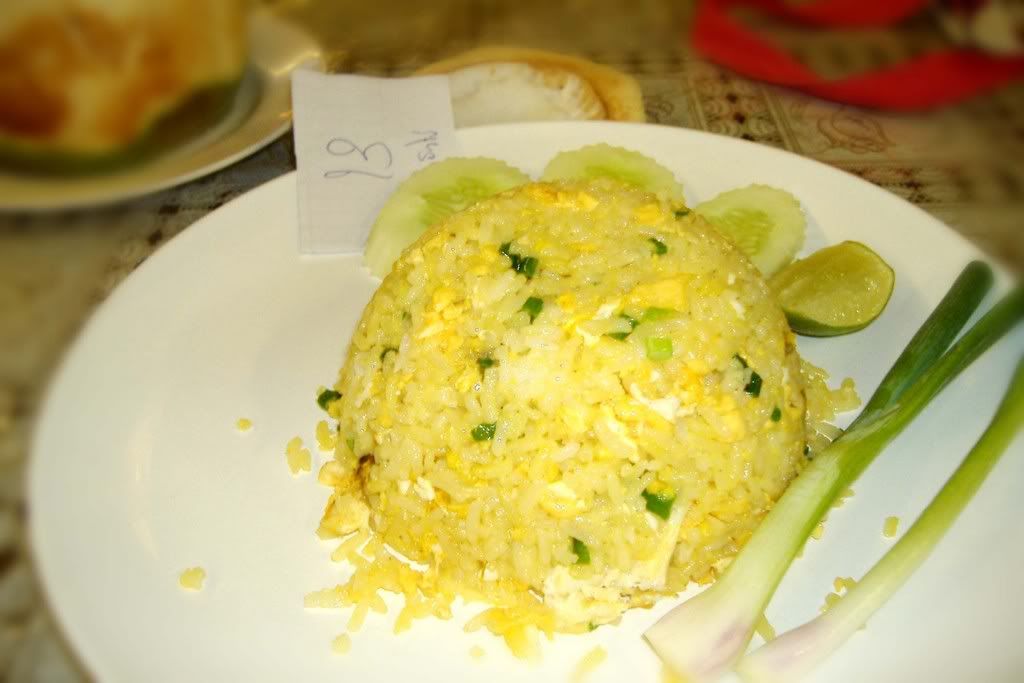 Fried Rice

Grilled River Prawns

These prawns were huge, although once you peeled them you weren't left with too much. They were delicious though.
Finally we got some mussels topped with cheese. We were stuffed by the end of it and couldn't finish it all.
On the last night we went to the
riverside restaurant
which I went to last time I was there, but only for drinks. So this time I wanted to have a meal there. It says on their menu that there are over 500 items to choose from, so you won't have a problem finding something you like.
Papaya Salad with Shrimps (Som Tam)
I started off with a Som Tam, which is a cold salad and has a really nice dressing of tamarind, lime, fish sauce, and palm sugar. This wasn't as spicy as I have had it before though.
This I found quite bland and not at all like the chicken and cashew nut that you would get from a Thai restaurant in Sydney. I should have ordered my Kao Soi again...
Another northern specialty is sticky rice, so I thought I would order some of that too. Usually you would order this with fried chicken from street vendors. All of that cost me about $6, which is a bit of a bargain. The seating was alongside the river as well, so it was a beautiful view.
At the restaurant they also had two ends where bands were playing. We went to the end nearest to us and listened to this excellent band called the bugs. They sang cover songs, but had their own twist on them. I would recommend going to this restaurant if you are in Chiang Mai.