On Saturday night I went with my friends Megan and Bee to Sumac restaurant in Darling Harbour. I had seen this restaurant a few times before, tucked away in the corner next to the docks hotel, but had never actually been. I saw
jenius'
post on it and decided to give it a go, plus it's right near where i live, so bonus!
Cocktails
We decided to start off with some cocktails while we decided what we were going to order. Clockwise from the front I had a good old cosmopolitan (which was good, but i make a mean cosmo, so it wasn't up to my standard), Megan had the Lychee Martini which was yummy, lychees are good and Bee had a Strawberry Daiquiri which i wasn't a big fan of. I always find that daiquiris are never sweet enough for me and i want a drink that i can drink and not have it get stuck in the straw. All the cocktails were $14.50, which is quite reasonable for a restaurant.
Mix Dips Plate - Hummus, Babaganouj, Tzatziki & Bread - $12
For starters we had the mix dips plate. Yum I could live on dips and bread, but i would have preferred a bit more bread, but then i probably should have ordered some more, so i shouldn't complain. Next up the mains.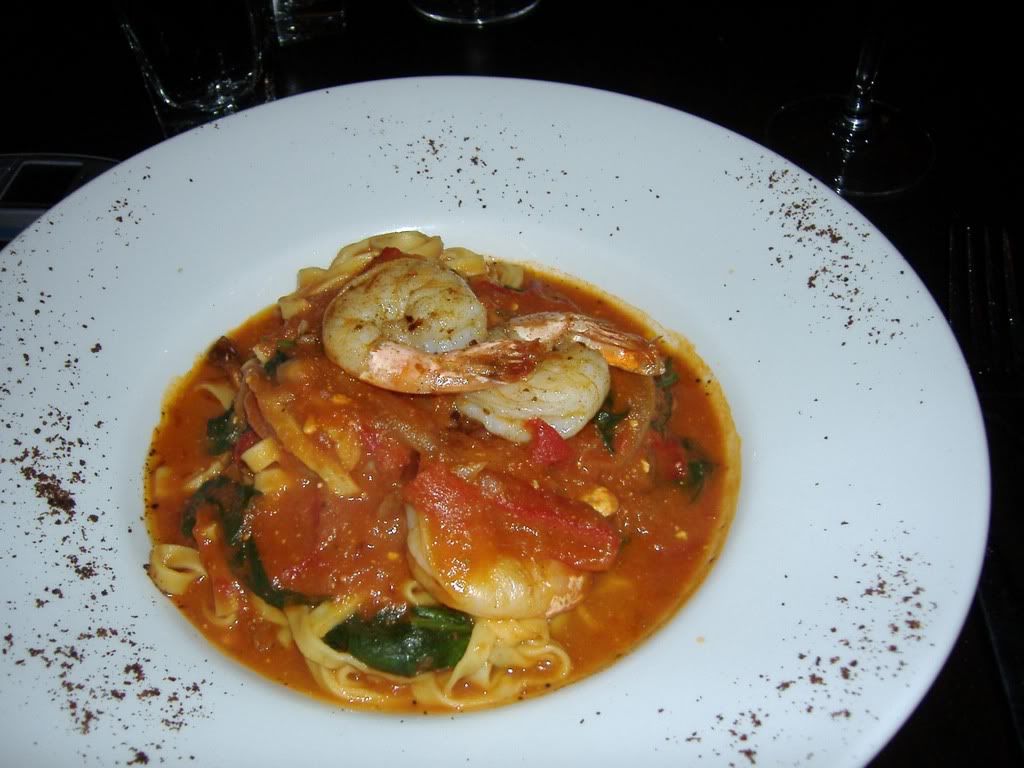 King Prawn Linguine - $29
I decided on the King Prawn linguine. I was going to go for the lamb shank tagine (i love a good shank) but i had some the other day and hadn't had pasta for ages, so chose this instead. It was very tasty and the prawns were big and flavourful which was good to see. It was a bit spicy though, which i didn't expect. Luckily i like all things hot otherwise i would have not been able to eat it. It was a huge serving too.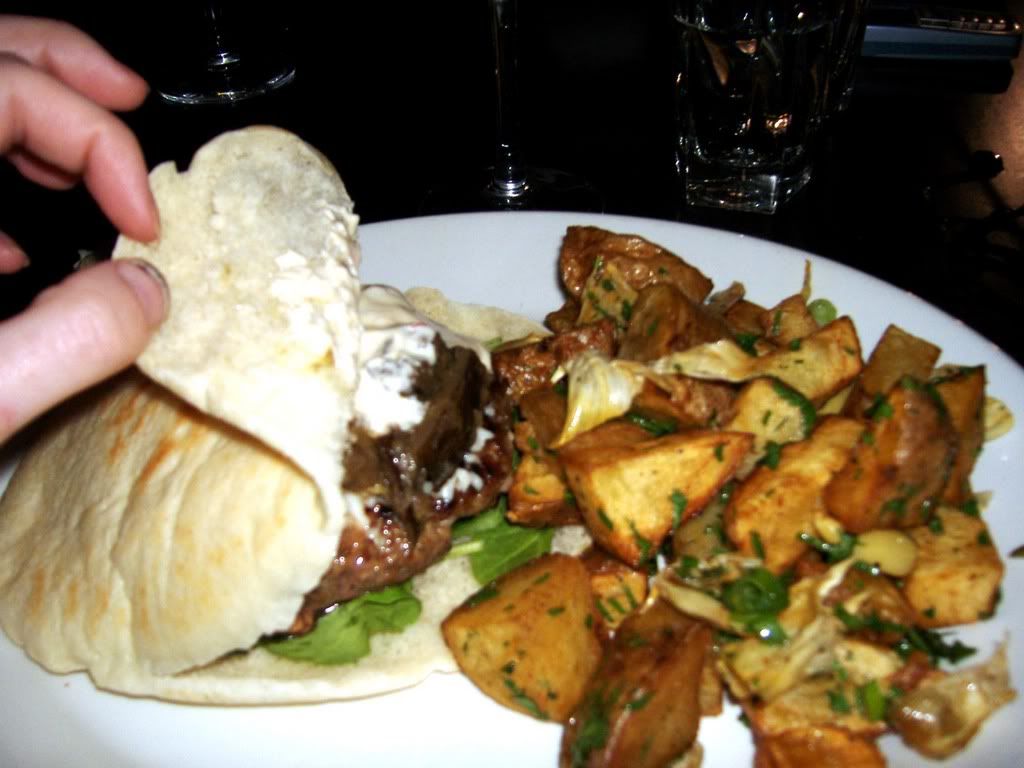 Wagyu Beef Kebab - $19
Megan ordered the beef kebab which was very nice. I went to try one of the potatoes and with the effects of the darkness and alcohol together i got some roasted garlic instead... Now i don't know if you're ever meant to eat the roasted garlic, cause i never think it tastes good. I got a potato on my next go and they were perfectly crispy and seasoned. The meat was good too, but if you ask me it tasted like your normal beef to me.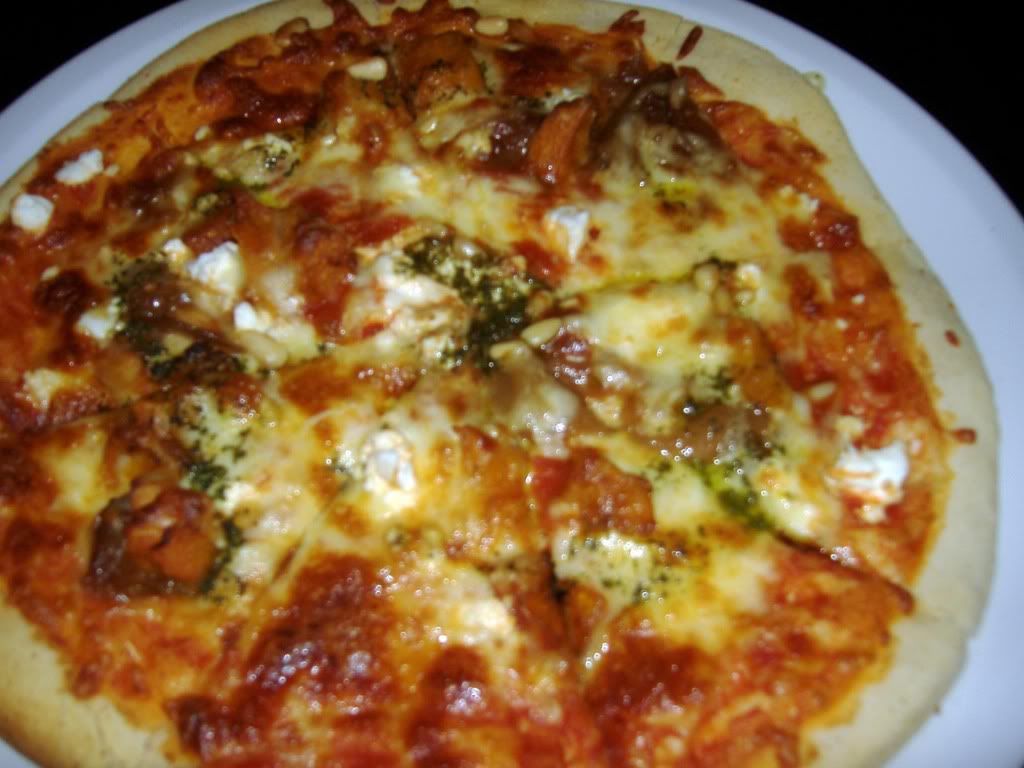 Vegetarian (Roast Pumpkin, Pine Nuts, Caramelised Onion, Feta, & Coriander) Pizza - $16
Sounds good doesn't it, well it wasn't that good. You would expect a party going on in your mouth, but no. This was Bee's choice, but of course I had to sample. Not saying it was bad or anything, but that it was just a bit bland.
I so wanted to try dessert, but none of us could fit anything else in. I always can't eat that much when i have had a few wines, and we were going out after that, so i didn't want to be feeling like i was about to explode.
Anyway i would recommend to go there if you are in the area. It was packed though when we went, so make sure you book. The waiter was a bit cute too, which is always good.
Shop 284, The Promenade,
Harbourside Shopping Centre
Darling Harbour
Ph: 9281 2700
Breakfast - Saturday, Sundays & Public Holidays - 9am - 11:30am
Lunch & Dinner - 7 days - 11:30am - Late