Saturday night was a catch up with a few uni friends that I still keep in contact with from my Canberra Uni Days. My friend Megan (who i wasn't really catching up with, as i see her every weekend) has just moved into her new place, so we decided to check that out and then go somewhere nearby for dinner.
Leonie & Megan
So after a few drinks we headed to the
Doma
Beer Cafe. We had booked a table outside and luckily it was a really nice night. We were all starving so decided to order some starters, even though we knew the mains were going to be huge. Megan had recently been to
Prague
, which is another Czech restaurant in Kings Cross, and they had the Mushrooms which she said were great, so we decided to get them.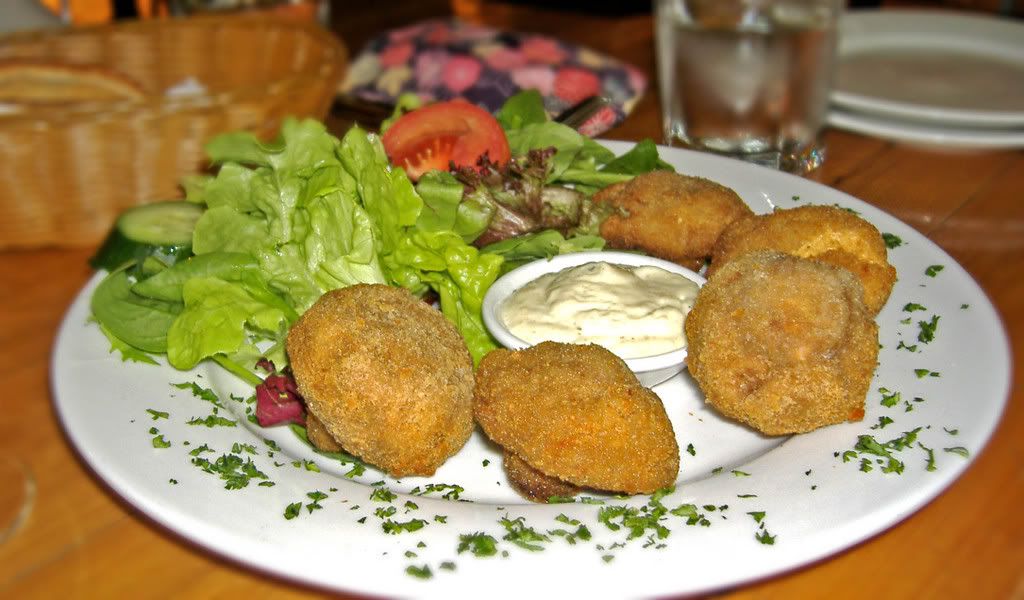 Mushroom Caps with Tartare Sauce - $8



I've never had deep fried mushrooms before, but these were really good. They were nice and juicy inside and really good with the tartare sauce. For entree we also ordered the Mixed Sausage Platter.
Mixed Sausage Platter - $8.50
Apparently this was a selection of smoked sausages, although they all tasted the same to me. It was served with a Dijon type mustard, horseradish and bread rolls. The condiments went perfectly with the sausages. The horseradish wasn't as fiery as i would have liked. I love spicy stuff. I especially love wasabi. I like to play this game when I am at sushi trains as to how much wasabi i can mix into my soy before my eyes start to water.... anyway back to the food. Luckily we ordered entrees, cause the mains took quite a while to come out. I went for the Doma mixed platter, cause i wanted to try a bit of everything.

Doma Mixed Platter - $21

Um hello have you ever seen a bigger plate of food for 21 bucks?? You could easily share this between 2 people and still be full. This was a mixed platter of pork. Pork Belly, Pork Neck, Pork Schnitzel, Smoked Pork Loin, Cheese Kransky, Red Cabbage, Sauerkraut and Dumplings. I have never really eaten sauerkraut and red cabbage before, but they were awesome. The dumplings were a bit stodgy for me, I only managed one of them. The cheese kransky tasted like the sausages in the mixed platter, the schnitzel was good, but the rest of the meat was a bit dry, which seemed to be a bit of a theme in the mains. Megan ordered the house specialty, which was the duck.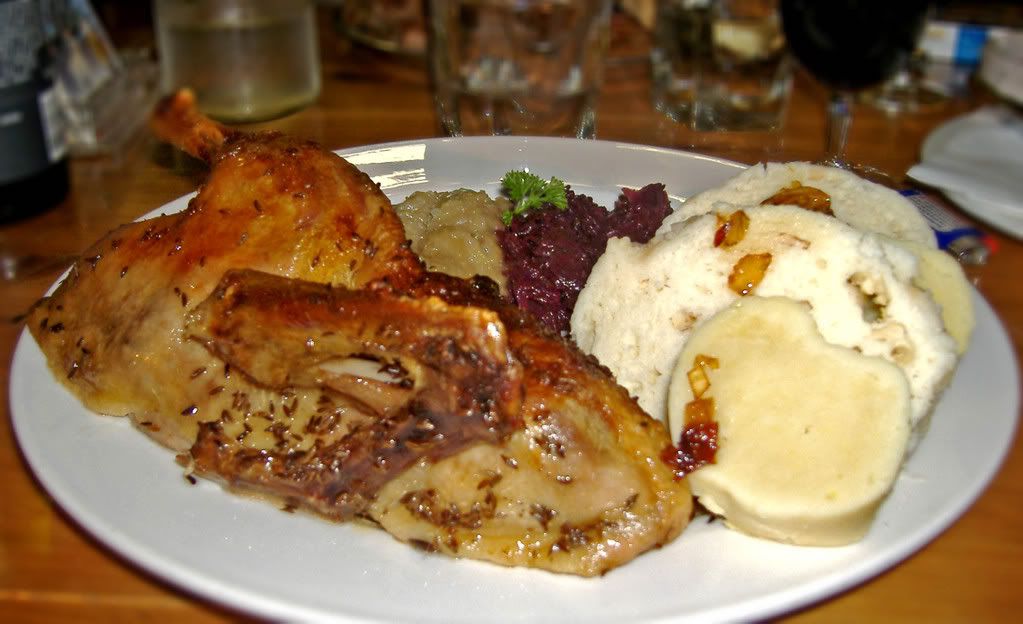 Roast Duck - $21
With this you get half a duck (yes that's right, half), the sauerkraut, red cabbage, and the massive dumplings. Megan really enjoyed this, but i found the meat a bit dry. I like my meat juicy! Leonie and Sonia both ordered the Beef Goulash.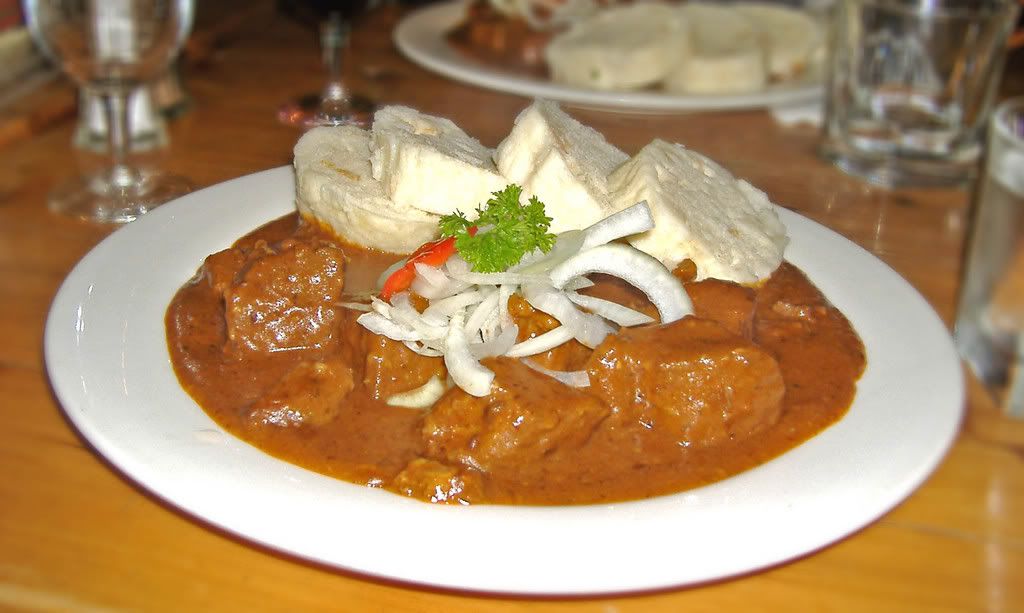 Beef "Beer" Goulash - $16.50

I tried a bit of the meat from this, and yet again i found it quite dry. I was expecting the meat to be really tender, like in a mussaman curry (which is the best curry in the world), but it wasn't. I thought the flavour was a bit one dimensional for me too. I think i am really used to my Thai food, cause i expect everything to have a bit of sweetness and sourness to it and if it doesn't i usually add it.
Me & Sonia
Overall i thought the food was very good for the value. All up with corkage it came to 100 bucks for the 4 of us. Pretty good when you don't even get half way through your main, cause you are too full. If you are looking for quality not quantity then don't come here. If you are looking for a big hearty meal, then this is the place! I wouldn't mind coming back and trying a selection of the starters, liked fried Brie and duck liver pate, yum!
Doma Bohemian Beer Cafe
29 Orwell Street
Potts Point
Ph: 02 9331 0022