It was mother's day on Sunday and i only found out on Thursday that Mum and Dad would be free, so i was on the restaurant hunt. M&D live out in the Hills district, but kindly said they would come to my neck of the woods...score! I had my birthday drinks earlier on in the year at Oscars, so wanted to go there and try the food out. They had tables free luckily, so it was booked!

When we got there we were seated promptly and handed menus which had a special set mother's day menu. I had been checking out the menu deciding what i was going to have a couple of days before, so I was a bit taken aback when we got the menus. It was a 2 course for $35 or 3 course for $40 deal, so of course we went for 3 courses. The choice for entree was either salt and pepper squid or pumpkin soup. M&D both went for the squid, so I chose the pumpkin soup.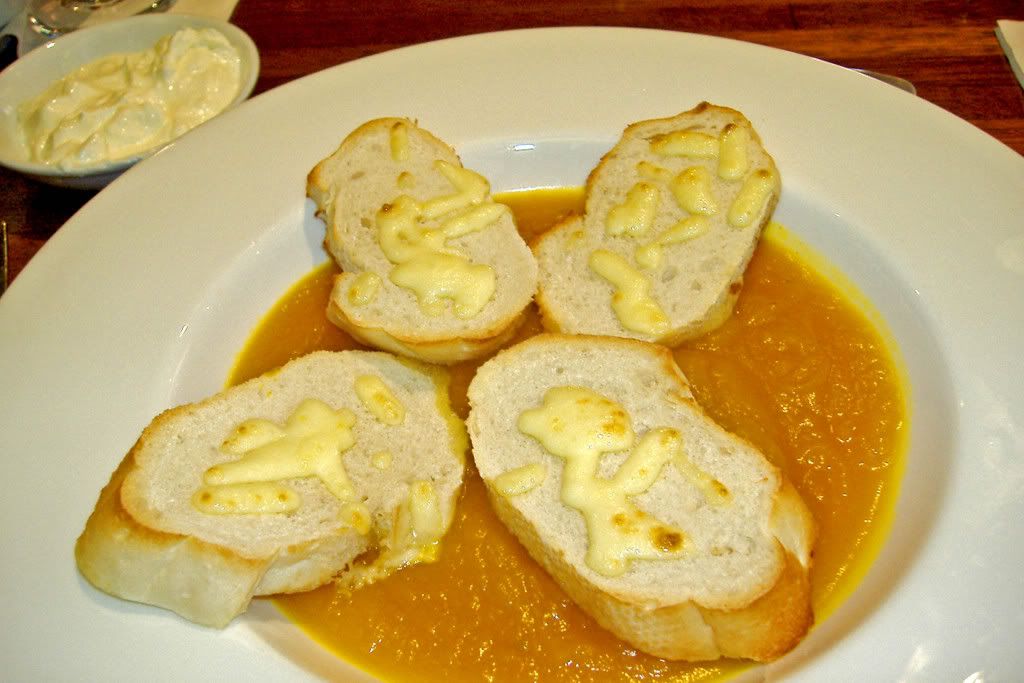 Pumpkin Soup

The soup itself was nice and thick, how soup should be. I don't like these watery soups that you sometimes get from restaurants. The bread was nice and crispy, but the cheese on top (i think it was cheese) didn't really have too much flavour. It also came with a little dish of sour cream, which it could have done without. Just put a dollop in the centre when you serve it so that it melts in, rather than trying to mix clumps of sour cream through the soup!


Salt & Pepper Squid

M&D both enjoyed this. I tried a bit of mum's and it the squid was very well cooked. Mum doesn't like rocket so she left all of it, so tried and bit and didn't like it at all. Whether i got a bit with no dressing on it, or the dressing had no flavour. Oh by the way, before our entrees came out, the table across from us all were served these massive plates of ribs which looked so good. I was like why weren't we offered the option of ordering from the menu?? Oh well. Next up were the mains, there was a choice between (can't remember actual names) stuffed chicken breast, steak or salmon. I was thinking about getting the salmon, but Dad ordered it and Mum ordered the steak so i thought i would order the chicken, and i nomally never get chicken when eating out at mod aus cuisine.


Stuffed Chicken Breast with Smashed Chat Potatoes


After waiting for an hour (might i add that there were 3 other tables that were occupied)! The mains finally arrived. Not sure what the chicken was stuffed with, cause the prosciutto that it was wrapped in was way salty. Chicken was dry, didn't rate this dish too much. Mum ordered the steak.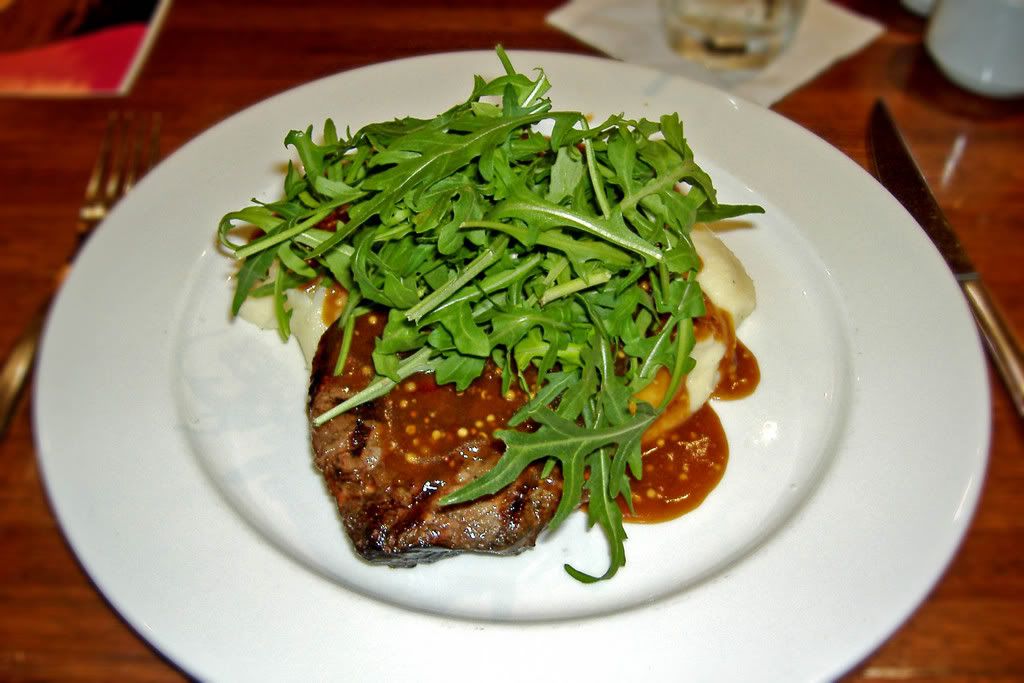 Steak with smashed potatoes (um that looks like mash to me!)


Piled with a huge handful of rocket (yes mum's favourite, not!) and mum doesn't like mash either (i know hard to believe) and it said in the menu it came with smashed, not mashed potatoes. Poor mum :( Dad ordered the Salmon.



Salmon with Green Beans

Dad said this was very good, so at least one of us was satisfed with our main. Saviour though was dessert...although it took ages to come out even though when we got it, it looked premade so i don't understand why it took so long. You could choose between a chocolate mousse or a souffle with raspberry i forget what else. Dad and I had the mousse and it was yummmy!!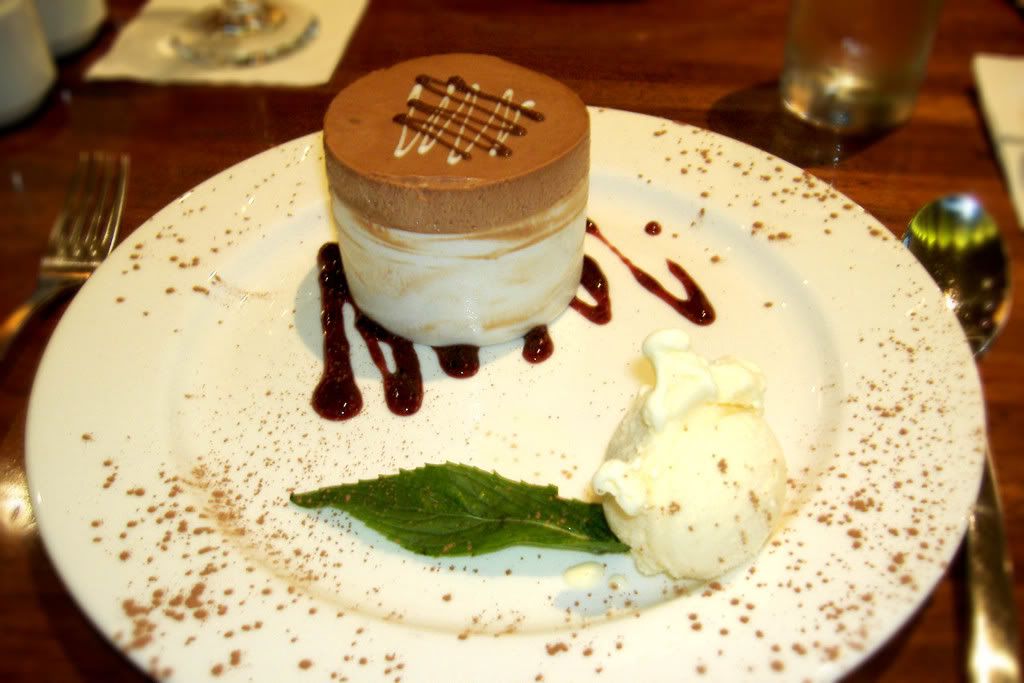 Souffle


The ice cream was a bit icy for my liking, and i don't understand why they plonked the dessert on top of the coulis. I finished all of mine though :) I want to come back and try those ribs though. I looked on the menu and they are 25 bucks, and let me tell you they were huge!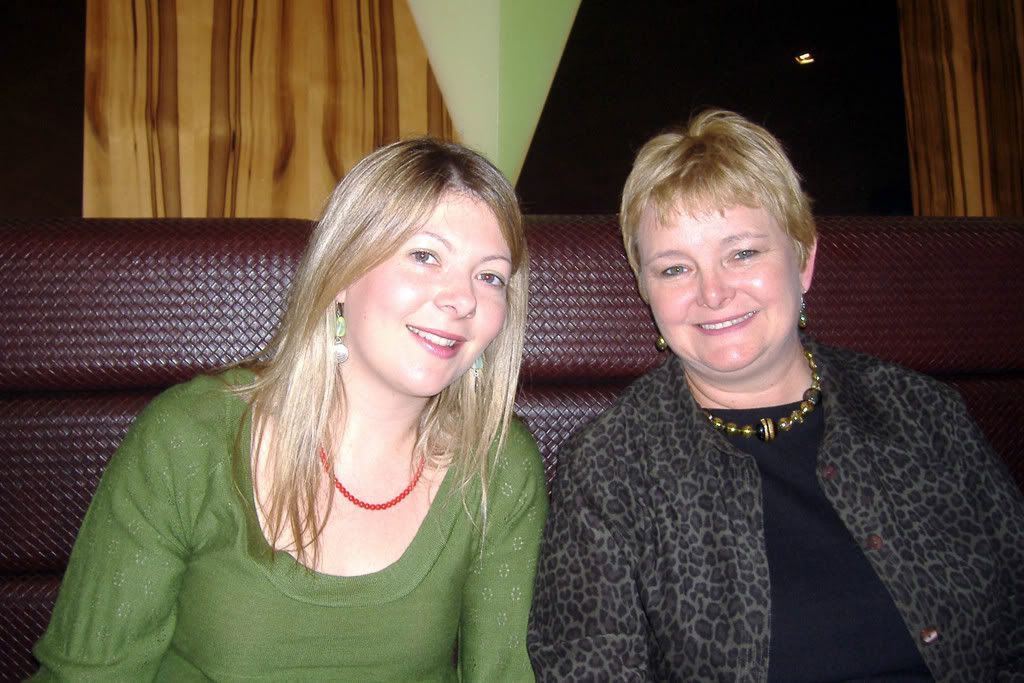 84 Union Street
Pyrmont, NSW
Ph: 9660 5933